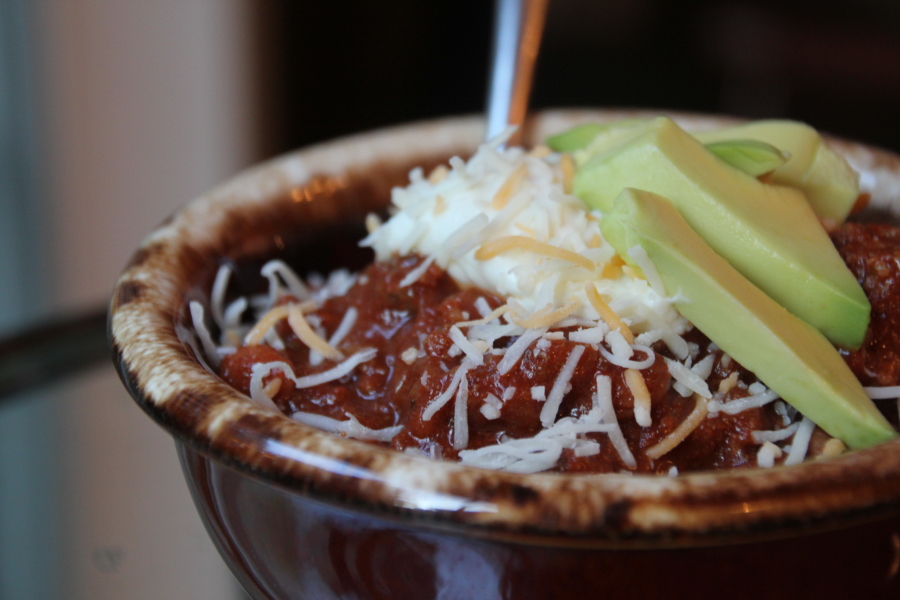 Sharing food and getting to know new friends – what's not to like?
I read a post from Molly about having a freezer meal party – and then a new friend posted on our Facebook group about having one.  I jumped in.  While the prep was heavy on the front end – we had dinner for that night and I have 4 (now 3) meals in our freezer for those busy nights or hard mothering days when I don't feel like cooking.
A note on cooking for the freezer: I'd rather not do it all the time.  Its ok.  Some mothers rely on it heavily – I'm more spur of the moment in our cooking, at least weekly, and love to make things fresh and right then.  I usually can get quite a bit done during nap time or we just eat later after the boys go to bed.  But, for those who love do it – thanks for finding ways to provide your family healthy foods.  Keep it up!
This recipe for chili is from a wife, momma, and athlete.  My husband has loved it – and loves the spice in it.  I'm sure you can cut back on the jalapenos if you like your chili with less heat.  Thanks Delaine!

Spicy Beef Chili
Prep time:
Cook time:
Total time:
A hearty and spicy chili
Ingredients
2 pounds ground beef
2 onions
4 ribs celery
4 T canola oil
2 cans tomato paste
1 28 oz can pinto beans, drained
3.5 T jalapenos, chopped
3.25 T chili powder
3.25 T cumin
2 tsp basil
1.5 t oregano
2 tsp garlic powder
2 T salt
1 can corn, drained
Instructions
Cook the ground beef. Set aside to drain on some paper towels.
Cook down the onion and celery in some canola oil.
Combine all the rest (except corn) and add 3-5 tomato paste cans of water.
Simmer on low for an hour.
Test the seasonings and see what you need to add (if anything).
Add corn right before serving.
Top with cheese, sour cream, bacon, avocado - anything. Serve with fritos, spaghetti, or cornbread.