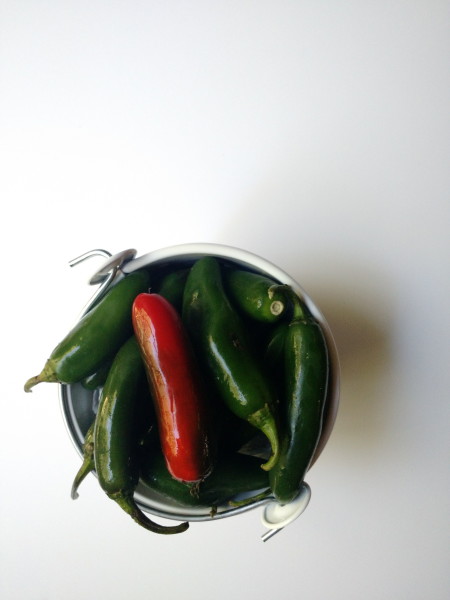 Creamy Roasted Jalapeno Soup
the charming south kitchen
Fall has (not quite officially) begun,
but when I bring out the old youth group (yay Anastasia) tshirts that I've had for some 15 years,
I can make roasted jalapeno soup and call it Fall.
Back in August I attended my family reunion over in Northern Alabama.  Southern cooking and fried chicken and pies and pound cakes are the name of the game.  Woodworking and quilting.  What I also received this year was a giant bag of jalapenos.  Can life really get much better?  Fresh grown jalapenos.  Yes, from people who really know what they are doing in the vegetable garden arena (not me, I kill basil).  What was I going to do with all of these tiny peppers that tasted so good with just a subtle amount of heat?
Make soup of course.  And anything you can put cheese, bacon, and avocado on has got to be a good soup, right?
This has just the right amount of heat.  You may want a glass of milk nearby, but most of you will probably be able to handle it.  I just downed a bowl of it.  My husband will have it tonight alongside a full-loaded baked potato.  Not too shabby for a Monday night.

Creamy Roasted Jalapeno Soup
Prep time:
Cook time:
Total time:
Bit of heat, delciously cream, fresh soup for the start of fall
Ingredients
6 jalapenos, no seeds
5 carrots, diced
½ onion, diced
2 T olive oil
½ tsp garlic powder
2½ cup chicken broth (homemade is best so you control the ingredients)
½ cup whole milk
¼ cup all-purpose flour
2 T unsalted butter
¼ cup diced tomatoes with green chilies
¾ cup mexican shredded cheese
salt and pepper to taste
Instructions
Slice and seed jalapenos.
Place them cut side down on a baking sheet.
Roast at 400 for 15 minutes
Chop onion and carrots.
Saute in olive oil over medium heat (in a dutch oven) for about 4 minutes.
Add roasted jalapenos (chop them) and garlic powder
Add in butter and as it melts, stir in the flour.
Once combined, add in chicken broth.
Bring to a simmer.
Add in milk and simmer for another 3-5 minutes
Transfer to a blender to puree (or use immersion blender.
Put back in dutch oven.
Add tomatoes and cheese and heat through until cheese is melted.
Top your bowl of soup with more tomatoes, cheese, avocado slices, bacon.
Enjoy