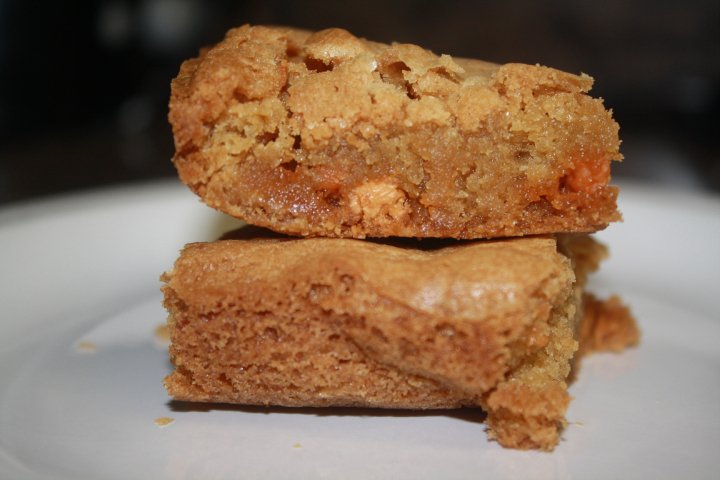 This recipe is a result of good blog reading.  I love Hannah's blog – don't know her personally, but I've been a fan of her blog for a few years now.  She is a creative photographer, thinker, and baker.  I wanted to bake something for our Singles Gathering at Providence the other night, so this is what I came up with.  If you like butterscotch – these are dangerous.  I had to get them out of my house and clean the bowl real quick so I wouldn't lick it clean!
Makes 9×13 pan
2 cups flour
2 tsp baking powder
1/2 tsp soda
1/2 tsp salt
2 c brown sugar
2 sticks unsalted butter, melted, slightly cooled
2 tsp vanilla
2 eggs
1 (heaping) cup butterscotch chips
Mix dry.  Melt butter.  Stir together butter, brown sugar, eggs, and vanilla.  Combine with dry.  Fold in butterscotch chips.  Line pan with foil and spray.  Dump in batter.  Bake at 350 for 30-35 minutes.  Let cool for about an hour and cut.  Best when served warm in my opinion.