Happy New Year!  When do you get tired of hearing that?  I usually have to wait until after my birthday, which is tomorrow.  New Years and birthdays, both great.  I used to dislike having a birthday so close to Christmas (school was out so I never got to celebrate it in school), but now I love it, because not only am I starting a new calendar year, but also a new birth year. 
1.  I had one of the best new years ever!  A friend from seminary came over to Raleigh: we cooked dinner, hung out a cool place in Cary, went to the NCMA, and watched movies.  It was low-key and wonderful.
2.  I already went away from on of my 2011 goals.  I ran in a 5k on Saturday and unfortunately left my cell phone at home so I had no interval timer.  I finished this multi-terrain, ice/mud, hills, loops race about the same time I finished my first one.  So, I wasn't happy.  But, I did it.  And I had friends cheering me on and running with me!
3.  This is going to be a tough week and a good week.  Tough week with many things going on a work and writing kicked into high gear.  Good week because I get to have dinner on Thursday night with some of the most amazing RDU friends a girl can have, both new and old, and I'll be missing some too because of vacations and babies.  God is good, isn't He!
4.  Day one of clean eating went very well yesterday!  I am thankful for oranges and sweet potatoes that I don't have to buy because of family!  Everytime I have craved nut butter or even milk or egg whites today I thought that God is sufficient for my every need and He is gracious too.  I have included seeds in this clean eating: fruits and veggies only while at home.  Seeds because I eat hummus and tahini is in it – ground sesame seeds.  I'm already thinking post-40 days to see how my diet will be altered, and see how my food-relationships/sin issues have been changed.  Thank you God for the cross!
5.  Bring on the playoffs!  Excited.  We'll see how long my teams last.
6.  January… here we go: I'm doing the list here rather a whole new post. 
6.1: Birthday celebrating
6.2: Working out and logging milesd
6.3: Stemmerman Inn for my birthday!  Thank you Mom!
6.4: Charlotte to prepare for an upcoming women's conference I am speaking at in March. 
6.5: Photog!
6.6: Writing and reading.  Sound familiar?
Link Love
1.  One of the coolest things I've heard from country music in a while – great on the gender issue too.  Go Zac Brown!
2.  With clean eating for 40 days, I'm making this soup.
3.  For those of you memorizing Philippians, John Piper reciting it may spur you on!
4.  Do you already need help keeping those resolutions?  These apply to any you have made.
5.  One of the smartest guys I know, and do ministry with, gives his list of best reads of 2010.  And he read a lot more than this. 
6.  Some great sermons and talks about keeping resolutions
7.  After taking off most of 2010, John Piper returns and tells all what God taught him and Noel from their leave of absence.  Good stuff.
8.  Also, if you have never memorized long passages of Scripture, here are some quality sermons from Andy Davis and John Piper to help you out and to see the benefit of it. 
9.  If you still need help picking which Bible reading plan to do for 2011, go here.  Justin lays a lot of them out for you.  I am doing Elevate's B90X from last year, just multiplying it times 3 with some breather days in there. 
10.  Her photos are inspiring.
11.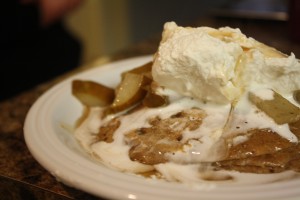 Recipe coming soon!