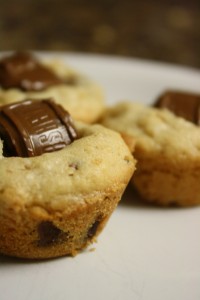 I got to bring something to a birthday party this past weekend and had most of the ingredients for these, so I went with a new recipe.  I liked the crisp in them and of course the addition of a little hershey's chocolate on top.
1 stick unsalted butter, softened
1 cup brown sugar, packed
1 egg
1/2 tsp vanilla
1 cup flour
1/4 tsp baking powder
1 cup rice krispies
4 oz semi-sweet chocolate chips
mini hershey bars
Tools: mini muffin pan, small cookie scoop, stand mixer, measuring spoons and cups, spatula
Cream butter, sugar, egg, and vanilla.  Mix dry together and add to wet.  Fold in cereal and chocolate chips. 
Spray muffin pans and bake at 350 for about 12 minutes.  Makes approximately 30.  Remove from oven when done.  Immediately put 1/2 of a miniature hershey bar in the top.  Let cool completely.