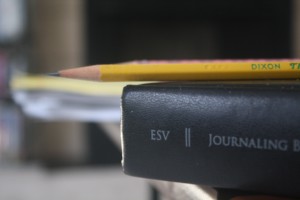 "Oh that my ways may be steadfast in keeping your statutes." – Psalm 119.5
Continuing with the Tuesday is for Tools idea, I thought I would take one of my favorite Bibles and highlight it.  One of the Bibles I purchased during my time at THE Southern Baptist Theological Seminary was Crossway's ESV Journaling Bible.  I didn't use it that much for a while, but now it is the one I constantly have with me (though at this moment it is on my desk at the office, and I am in my bedroom, so not 24/7, but you get the picture).
The view inside the ESV Journaling Bible is a 4 column text (2 on each page) with lines on the outside of the columns to write in.  There are very few reference notes found at the bottom.  At the back there are introductions to each of the books of the Bible, though definitely not as in-depth as in the ESV Study Bible. 
How I use it: Since I write curriculum for my day job, I use it to take notes on passages that I'm writing on, so if I get to teach on those passages or don't have the curriculum with me, I can know the exact points that I brought out in the curriculum.  Or…if someone is speaking on a given passage, I can take notes because others are more brilliant than I am and come up with more insightful thoughts into Scripture.  I love sitting, listening to someone preach, and just jot away (either with pencil or a fine-tip pen that won't bleed through the pages). 
The only thing I don't like about this Bible is there is not a concordance in the back.  The good thing about it is I'm learning to know where certain verses are and trying to keep their addresses tucked away in my brain.
Fun thing about it: on a random day at the offices: you can walk by both my office and my boss' office and find the ESV Journaling Bible in black laid open in front of our monitors.  And my boss' wife has one too – but hers is prettier. 
Do you have a favorite Bible?  Are you a person who writes in their Bibles or not?  How long have you had your Bible?  I do have one from my late elementary years, but I don't think I have one from any earlier than that.