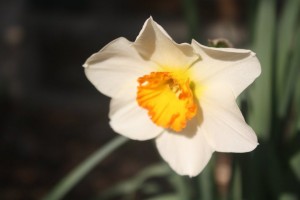 Here we are – two months down in 2011.  This has been a fabulous month, a hard month, all in one.  I'm glad its over – I'm excited about the future.
1.  I need the Psalms.  Of course I need the rest of Scripture too, but the Psalms have been close to me this week.
2.  I get to housesit in Durham this week – very excited about spending consecutive days in Durham, in a quiet house with 2 kitties, and a huge kitchen – I feel like I must cook!
3.  Less than 3 months till Alaska – so excited.
4.  A friend passed away on Thursday.  Thankfully, it was quick – he didn't suffer.  He taught me much about faithfulness, intercessory prayer, and submission to authority.
5.  Fave songs right now: Come Awak (Matt Maher), patiently awaiting Stuart Townend's new CD, ZBB (need someone to come with me with W-S for a concert on April 6 – I've learned not to go to country concerts by myself), Who Are You When I'm Not Looking (Blake Shelton – who will also be in concert with Easton, any takers), Hello World (Lady A – saw this video over the wknd, good stuff), Little Miss (Sugarland), and Crazy Girl (Eli Young Band – though I like the song better than the video).
6.  So excited Colin Firth won Best Actor – he deserved it for his role in The King's Speech – HIGHLY RECOMMENDED!  Would so see it again!
Link Love
1.  I may put this on my kindle for the Alaska trip: and this too
2.  Love. Brian Regan.
3.  My friend and mentor Danny posted on our mutual friend's passing.  Love Curtis' legacy: 
4.  Can I eat a big bowl of these?  Need to pick up some fresh sugar snap peas!
5.  Rob Bell – this week – WOW.  Big news.  Wonder what all those people who love Nooma videos and Velvit Elvis think about him now.  Justin recvd many comments on this post…
6.  Maybe I'll make these while in Durham – any Durham pancake lovers out there?
7.  Wish Victor Hugo knew Jesus – especially since Les Mis is such an incredible story of grace.
8.  This post made me laugh aloud.  I know people like this.  I don't really want to be this person though.
9.  Love Andrew Peterson – this is a great song for parents. 
10.  Good thoughts on your attitude in conversations and life.