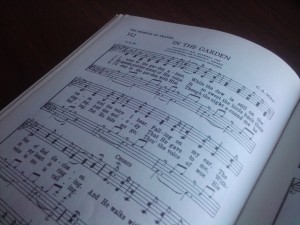 This is probably going to be one of the "touchy-feely" hymns that I actually write about, but this song was sung yesterday at a funeral by my good friend Michelle, and her beauty and the words and my pastor's wife's talk on Monday night – all in all – this hymn needed to be shared today.
This picture is taken from my church's hymnal from when I was growing up.  I have a copy of it that I took about 10 years ago when my church closed its doors.  I have many other old books from the church's library, but I use this one most often.
Hymns of Grace is the title of this hymnbook – and this hymn talks about the grace that God provides to us by gracing us with His presence.  One of the young ladies I know asked me the other night "It is hard for me to have a relationship with someone who isn't there, right beside me, how do I do that, how do you hear his voice."  One of the ways I told her was through the Word.  That is why I love the Bible – it is the very words of God to me.
I come to the garden alone
While the dew is still on the roses
And the voice I hear falling on my ear
The Son of God discloses.
And He walks with me, and He talks with me,
And He tells me I am His own;
And the joy we share as we tarry there,
None other has ever known.
He speaks, and the sound of His voice,
Is so sweet the birds hush their singing,
And the melody that He gave to me
Within my heart is ringing.
I'd stay in the garden with Him
Though the night around me be falling,
But He bids me go; through the voice of woe
His voice to me is calling.
Three thoughts:
1.  He tells me I am His own.  Paul knew this (Acts 27).  The Psalmists knew it.  Isaiah knew it.  I know it.  I struggle with it at times.  Faith is constantly built up in Him.  It is by grace that I am His.  I cherish it.  This is what has to sustain us in every hour of every day.  Life will not always be what we think it should be  –  but our anchor must be in the truth that our GOD – we are His.
2.  The joy we share as we tarry there.  Are your times with God joyful?  Are they even a reality?  We get so busy that we don't even take time to be with the God who cherishes us. 
3.  Is so sweet, the birds hush their singing.  Creation does the will of its Maker.  How much more so me?  I need to not only believe on the Word of God – but also act in obedience to it.
You don't have to go to a garden, but I pray that you would find time to spend in quiet with your Maker.