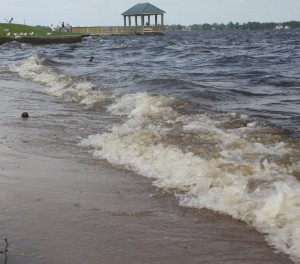 Happy Day after Easter everyone!  I pray that if you celebrated Easter yesterday and the alive Gospel of Jesus Christ – that it was a fabulous day of remembering our hope in the gospel!  Jesus is life: and much sweeter than any hollow milk chocolate Easter Bunny.
I loved my whole weekend: immersed in the gospel, hanging out with friends, exploring new cities, water, beach. (Above picture taken in New Bern on the Neuse River)
Here we go:
1.  Less than a month till Alaska.  I get more and more excited about it!
2.  I cooked some salmon yesterday – yummy!  Who needs ham on Easter?
3.  Have you ever pondered how many Bojangles there are in NC?  A. Lot.
4.  Sleeping has been better, just never getting enough of it – know what I mean?
5.  Plugging away at my job.  Still love my job.  As I was talking to a gentleman this weekend: that is grace above grace to have a job that you love to do!
6.  Friends are such a blessing in my life.  I hope you have some good ones to share life with!
Link Love:
1.  I love being described as hospitable only by God's grace: here is a good post
2.  This family is precious to me!
3.  I love this song.  The choir at FBCD sang it yesterday before the sermon.
4.  JD posts on how to teach OT characters
5.  Another great post on hospitality
Short and sweet this week!  Enjoy and be blessed.