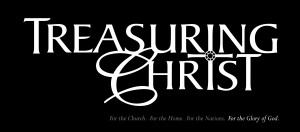 Wow – its already May.  Where does the time go when you are having fun?
This month is a busy one for me, so here we go.
1.  First, to honor Christ through honoring Professor Chip Stam from the RDU area but last as a prof at SBTS.  He is now worshiping Jesus with no pain.  He met his Maker last night after a 4 year struggle with cancer.  I look forward to rejoicing with friends this weekend in Louisville as we celebrate his home going.
2.  The work I've been pouring life into the last year finally launched.  Not all done, but ready to put it out there and see how God will use it to bless churches and the nations.  Check it out: http://www.treasuringchristonline.com
3.  In three weeks from right now I'll be on a big boat sailing up the coast of Alaska.  Can't tell you how excited I am! 🙂
4.  Between now and then though I have much to do: a conference (Advance the Church), a night with Tim Keller to benefit DurhamCares, a trip to Louisville, welcoming friends in town, a wedding, work, writing, book reviews, training for a half marathon.  BUSY!!!! 🙂
5.  God is so gracious to me – in little ways!
Link Love:
1.  Love Tim Chester's post on food
2.  Jess includes another make-under post: your workday!
3.  Makes me long for football season.  Only time of year I wish I didn't live in NC: I'm not a Panther's fan
4.  Oh my goodness, I so want to make this.
5.  Ann writes a great post on how to be a missional family.  You can also view a great resource we did at Providence on this topic as well:
6. I love my friend Courtney and her views on marriages and weddings.