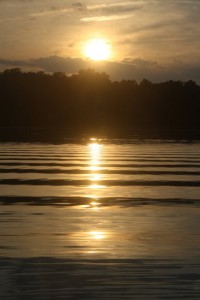 1.  I had a lovely time up at Kerr Lake this weekend – amidst storms and books and subway sandwiches and solitaire.  I took this photo (above).  Very relaxing.
2.  4 days till Alaska.  I love to travel and can't wait to get to Seattle and then board a boat!
3.  A good friend of mine from Louisville was unanimously approved last night to be the new Student Pastor at Providence!  So excited to get to share life (and books) again with this family!
4.  Communication is so key in every relationship!
5.  I am not bringing any work stuff with me to Alaska.  The only reason I'm bringing the laptop is so I can download pictures off my camera to my laptop so my card won't get full.  I'll have my phone with me but primarily for answering personal emails, making phone calls in port cities, and sending mobile pictures to people who can't enjoy Alaska with me.  I'm only bringing fun books – not theology books.  So EXCITED for Thursday – Sunday week.  Needed break!
6.  But that means I have a lot to do this week!
7.  Finishing up Randy Newman's new book about sharing the gospel with people you are closest too (mainly, family).
8.  You should see my desk: seriously…books and print out of books – EVERYWHERE.  I am looking forward to Wednesday afternoon when it will be cleaned off! 🙂  I won't know what to do with a clean desk!  – but see #5 – I won't be here to see it!
Link Love
1.  Do you want to be a better writer?
2.  Bruce Ashford introduced me to this man, and here is a video Justin Taylor highlighted last week.
3.  Love my friend Courtney's view on marriage.
4.  If you haven't read this: stop whatever you are doing and read it now: and be encouraged.