A friend and I made an impromptu stop at an Asian market here in Little Rock yesterday.  She was buying bok choy for a South Beach recipe she wanted to make that night.  I got on my trusty phone and looked up recipes, found one, realized I had most everything, changed a few things things, and viola! a good recipe for the hubs and I!  Enjoy it.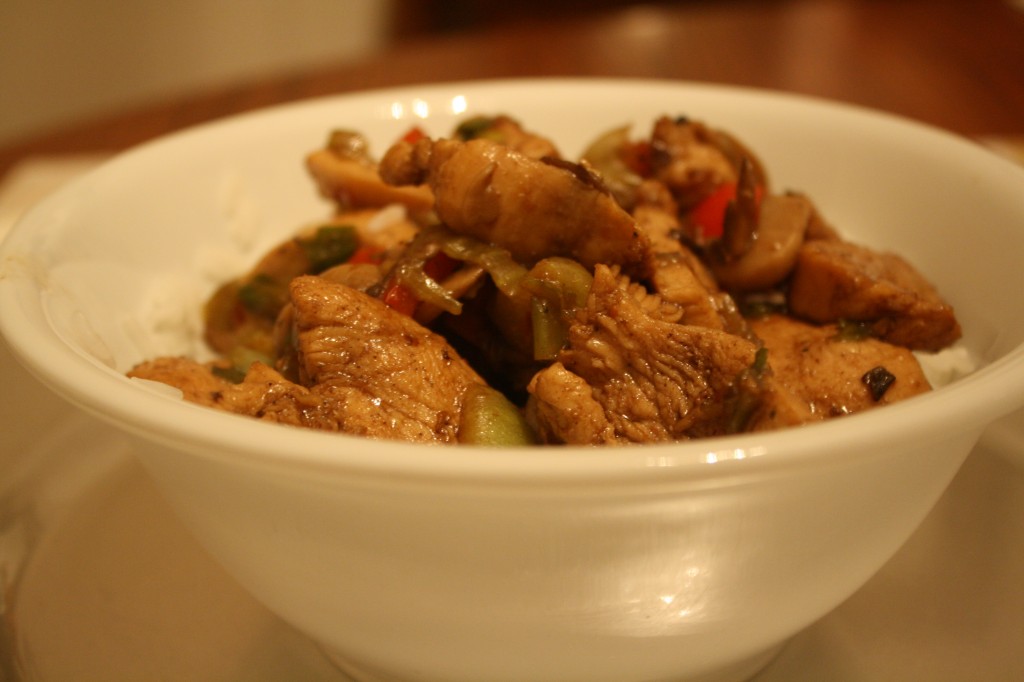 The good thing about having a well-stocked kitchen is that you can be at the store and just need fresh ingredients when making a meal like this one.  If you like to cook Asain foods, or want to get more into Asian cooking, here are some of the items you should invest in and have on hand: a wok, ginger (store in freezer), chinese 5 spice powder, Asian sesame oil, natural rice vinegar, soy sauce, stir fry sauce.  You can make a lot with just those ingredients always on hand.
Spicy Asian Chicken and Bok Choy
1/2 cup chicken stock *I used homemade that I had leftover from cooking down my chicken bones – this saves money and tastes so mcuh better than store bought!
3 T soy sauce
1 T sherry cooking wine
1 T sugar
1 t cornstarch dissolved in 1 T water *Cornstarch is a thickener.  In a seperate small bowl, stir the cornstarch and water together, then put it in with the rest
3/4 t natural rice vinegar
3/4 t Asian sesame oil
1 t crushed red pepper
Canola oil *You use this at different times during the recipe, and I used more than the original recipe called for.  Your usage will be based on you stove, pan, and how saucy you want the finished product
1 lb white button mushrooms, stem removed, washed, sliced *To wash mushrooms, just dampen a paper towel and wipe them off, otherwise the spongy fungai will obsorb too much water
1 lb chicken breasts, thinly sliced *Salt and pepper this before cooking, I used 2 pinches of each
3/4 lb bok choy, thinly sliced *I just used the white part, not including the hard end which is bitter.  Mine was baby bok choy, not the bigger full-grown version
1 medium red pepper, sliced then chopped in about 3/4 in pieces *Make sure you discard of the seeds and inner white part of the pepper, otherwise the dish will be too hot
1 inch piece of ginger, peeled and grated
1 tsp garlic *I used Gourmet Gardens (in a tube) – Thanks Jilly – love the smell of it!
Basmati rice
Supplies needed:
Cutting Board (2, one for the raw chicken)
Zester-grater (for ginger and/or garlic)
Sharp paring knife
Whisk
2 Small bowls
Large, shallow pan
Measuring spoons
Medium pan to cook rice in
Plate
Wooden spoon
This isn't a hard recipe, just has several steps.  And I did great till the very end and then baby started fussing, made me burn some of the rice.  Oh, well.  It was still yummy!
1.  Chop all vegetables and chicken before starting.  Will make it very easy just to dump everything to the pot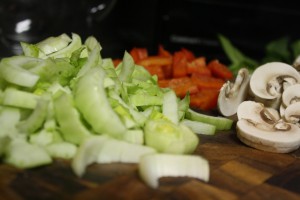 2.  Mix the chicken stock through the red pepper and set aside.
3.  Heat a large shallow pan with some of the canola oil.  Saute mushrooms for about 5 minutes.
4.  Take mushrooms out and place on plate.
5.  Add more oil and cook chicken until browned but not cooked all the way through – about 4 minutes.  When done, remove them from the pan and put on plate with mushrooms
6.  Add more oil if necessary, saute bok choy and red pepper for a few minutes, then take out and put on plate.
7.  Add liquid and seasonings (ginger and garlic) and just heat to make the ginger and garlic fragrant.  Garlic has a tendency to burn quickly, so you want to act fast here.
8.  Add the chicken and veggies and stir until all heated through and chicken is done.
9.  Cook rice sometime during this process.
10.  Serve on top of rice.
11.  Enjoy!