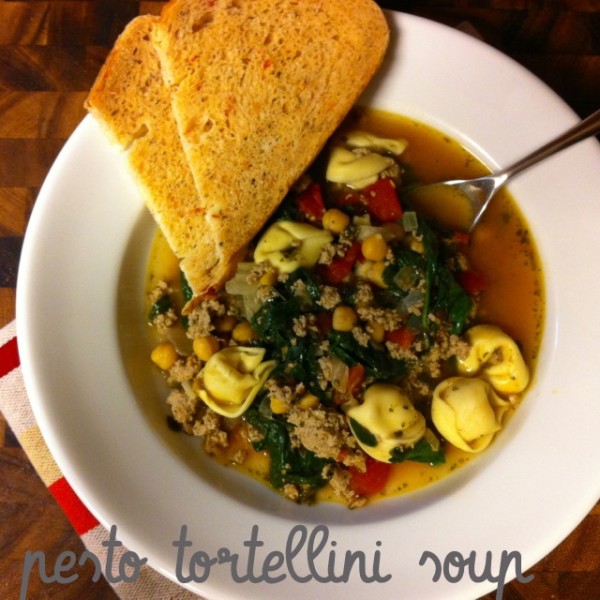 Ask my husband and he will readily tell you that my favorite condiment might just be pesto.  I seldom make it, but I love it on sandwiches, in soups, as pasta sauces.  No doubt amazing goodness from the oil, basil, and pine nuts.  So simple yet completely flavorable!
I started with a recipe from Tracy over at Shutterbean (I love her photography and her recipes, so go check her out if you haven't).  I knew I had some pesto in the fridge that I needed to use and I know my husband loves soups but needs protein to make it more filling.  That is how I made the soup my own.
Pesto Tortellini Soup
Olive Oil (just swirl in your pan)
1 onion, chopped
1 lb ground turkey (or Italian sausage which would make it better but is not as healthy)
1 1/4 tsp dried oregano
1/2 tsp red pepper flakes
s/p to taste
1 clove garlic, minced
1 box low-sodium chicken broth
1/4 cup pesto (I used Kroger Private Selection brand)
1 can chickpeas, drained (more protein)
1 Bertolli pkg cheese tortellini (or your favorite tortellini or mini ravioli)
1 bag fresh baby spinach
Cook onions, garlic, and turkey together until done.  Let drain.  Add the seasonings, broth, pesto, chickpeas and bring to a simmer.  Add back in the turkey and onions and garlic.  Add the tortellini and cook until done.  Then at the very end add your spinach.
Serve with croutons, toasted bread, or parmesan cheese (or all three).