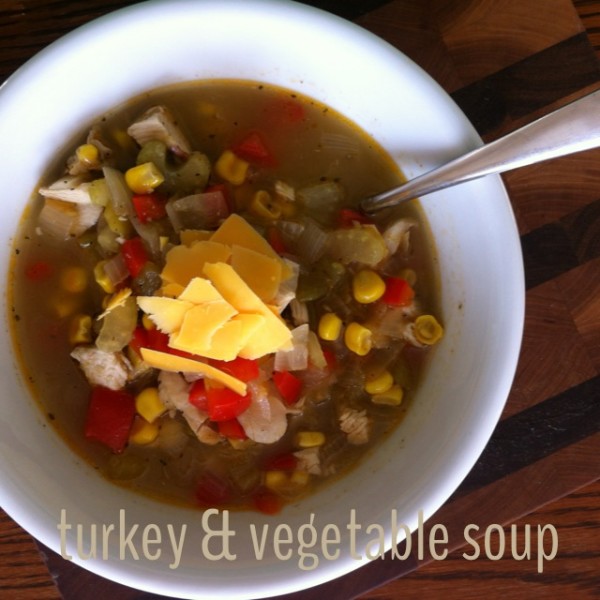 Thanksgiving is over.  I still have some cranberry sauce and green bean casserole in my fridge, but now I can say the turkey has been put to good use.  I cooked a turkey breast in the crockpot since there were only 4 of us (and 2 children) for Thanksgiving lunch.  I wanted something simple that wouldn't give me week's worth of leftovers (and I have no room in my freezer).
I looked at this soup and decided to change it up somewhat, and came up with this: a simple, healthy soup.
Turkey and Vegetable Soup
(serves 4-6)
1 onion, chopped
1 celery rib, chopped
1 red pepper, diced
garlic (to your liking)
3 cups homemade turkey stock (I just boiled my turkey carcass with 12 cups of water, carrots, and seasonings for 2 hours on medium).
1 1/2 cup chopped turkey
1 cup frozen corn
1 can diced green chilis (small can)
cumin
chili powder
salt
pepper
cheese or salsa for topping
Heat a stock pot on medium and cook vegetables in evoo for about 10 minutes.  Add garlic and green chilis, cook another minute.  Add in stock and corn and seasonings.  Finally add in turkey and bring to a simmer until heated through.  Enjoy with cheese (I liked sharp cheddar on mine with a side of sourdough bread toasted with some unsalted butter on it).