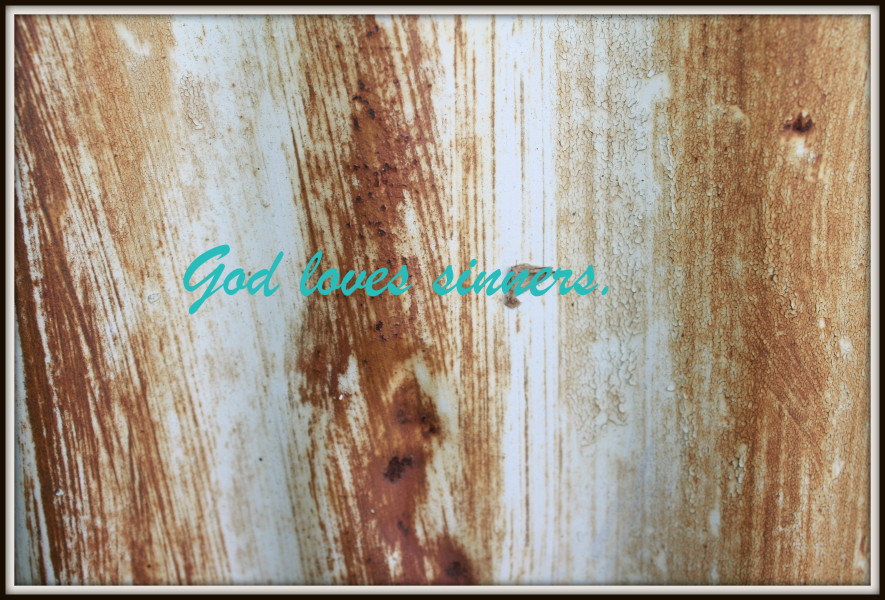 When you see the word "sinner" do you readily consider yourself among those who sin? Do you consider yourself a sinner? Not "I'm a sinner and Christ died for me – a theological statement". But, "I'm a sinner and Christ died for me – position of the heart and truth statement".
When I first read the title to this week's chapter I immediately thought "God does love sinners." Then I thought "No, wait…he loves me. I'm a sinner too." This is a very hard theological truth to come to. To realize that sin dwells within us – me. You. Not just in people who cut us off in traffic or get our order wrong in the drive-thru line or those really bad sinners who are on those "said" reality shows that we would never consider watching (hear tone of voice here). No, we have to come to know that we are sinners, too. And Christ died for us and is in the work of daily sanctifying us!
And what is our response when we are sinned against? Whether it is our husbands, children, strangers, friends? Personally for me, irritability. I get irritated at them. I don't think "Lord, work in me as I am in relationship with them. Shape all of us according to the image of Christ and your holiness." No, I usually sin in response.
"Love sinners? Me? Hardly. Sometimes I don't even like them, but He never let the coldness or puniness of my heart stop Him from loving me." (pg 78)
One of my favorite stories from the Bible is that of King David and Mephibosheth. Mephiba-who? 2 Samuel 9. Go read it. It will rock your world in terms of grace. We, just like Moses and Elijah (two Biblical rock stars) are "redeemed sinners welcomed into the fellowship of the Son." (pg 81)
Having lunch with a friend today we were talking about glory seeking. So easy to do in this world of social media, blogging, etc. But, isn't this the exact opposite of what Christ did while he was here on earth? And on his second return trip to earth (in the future) he won't need to promote because the whole earth will be full of his eternal glory (Philippians 2).
Do we really think about the "condescension of our Christ" (pg 87)? That he stooped low, that he was a carpenter, that he served lost people, that he ate dinner with sinners (some of those people that he ate with surely wouldn't be allowed in our churches today, right)? Sinners wouldn't look like us, would they? What if Jesus had had dinners with impatient mothers, stubborn wives, over-the-speed-limit drivers, time wasters, gluttonous people? Then could you relate? I could definitely relate more. I'm not a tax-collector. But, I'm all of the above. And Jesus provided a way for me to have a banquet meal with him. For this, I'm grateful.
Jesus was everything we didn't know we needed. I love this thought that I wrote in margin. He is good, isn't he!