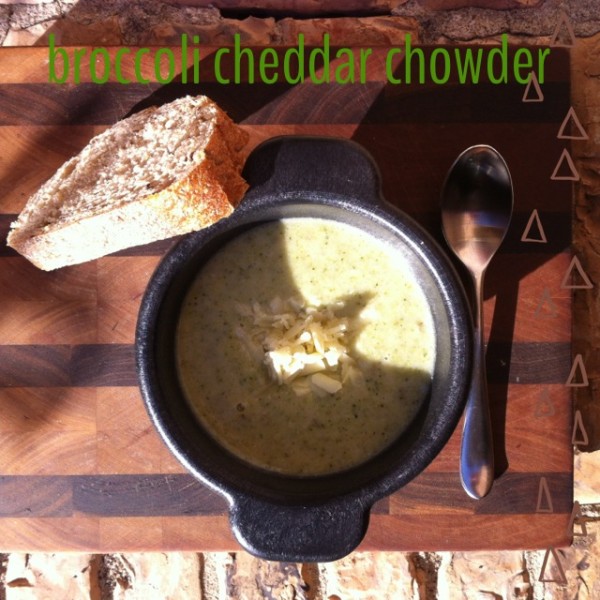 Who doesn't like something warm on a cold night?  Give me anything really that I can eat with a spoon – in a bowl – and I'd be happy, curled up on the couch, yoga pants on, slippers enveloping my feet, fire roaring – and a bowl of something warm.
This is a great chowder for just one of those nights.  I'm continuing in my goal of cooking through all of Jenna's recipes (that were on her site before Jan 1 2014) and am having fun with it so far.  Here is her recipe:

broccoli cheddar chowder
Prep time:
Cook time:
Total time:
Creamy chowder
Ingredients
2 T butter
1 medium sized bunch broccoli, chopped (about 12 oz florets)
1 russet potato
1 yellow onion, diced
1 garlic clove, minced
¼th tsp cayenne
½ tsp dry mustard
1 tsp salt
1½ cups grated sharp cheddar cheese (about 6 oz) - I used Vermont extra sharp white cheddar
2 T all purpose flour
¾ cup whole milk
3 cups vegetable broth
More cheese for the top
Instructions
Blanch broccoli and set aside
Dice onion and potato and cook for about 5 minutes.
Add in the rest except the cheese.
When boiling for about 20 minutes (or until potatoes are done), then add cheese and broccoli.
Heat through and serve.