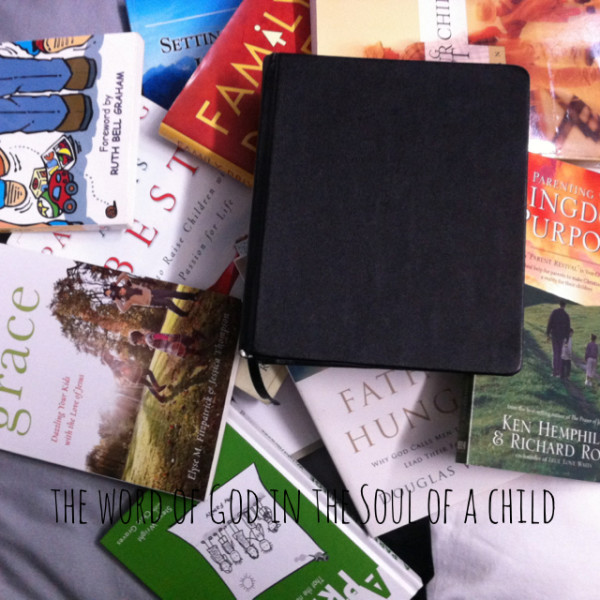 This is where I am. Starting to train up our older son, who is almost 17months and already has the "no" word down pat! Definitely his favorite word. Trying to change it to godlfish, chicken nugget, yes, or something better than no.  Our conversations with our older right now are consisting of "God says to honor our father and mother. And we don't talk to our mommy and daddy that way" – those conversations don't seem to be getting anywhere with him – but hopefully one day they will.
One story from my childhood…I grew up attending a Christian school. And I loved Sweet Valley High books in the 6th grade. It was the thing to read in the fiction area. I think I had most of them – and never know what happened to all of them. I had loaned one of the books to a friend, who took it home and was reading it at night by flashlight as to hide it from her parents. Her mom found it, called the school, and I got in trouble. My punishment…to write out Scripture. I would tell you what Scriptures, but I don't remember what they were. I think I mainly saw it as punishment then.
As I've come into being a parent, and shepherding our boys' hearts with my husband, we definitely want our boys to have hearts that are soft to the Spirit. We want the Word to break the stony grounds of their hearts and give them hearts that desire to please The Lord, love Him, and make Him known.
How we discipline and parent has an eternal impact. Here is how.
If we think that just because we quote Scripture in our home, make them memorize the Word, even for punishment, or memorize Scripture at the table or in family worship – that our children are going to automatically love the Word and have hearts that obey it…we are wrong.
The Pharisees in the NT knew the law and obeyed it – but their hearts were far from them. There are many who know the right words to say but inside they have cold hearts toward the gospel.
Here may be a better way to parent with the soul of your child in mind:
As you have the need to discipline:
1. Pray for yourself as you need to discipline your child. Pray that your heart would be one of correction for the purpose of training in the fear of The Lord and not out of anger, inconvenience, etc. Your heart matters.
2. Identify the heart of the problem. That may mean you first have to stop the outward disobedience, but there is always a heart problem.
3. Know verses that correspond to these heart problems. Whatever heart problem there is – Scripture has an answer! The Gospel is the answer!
4. Tell them those verses with a humble heart. Be humble before your kids. We are all sinners. That will go a long way with your children.
5. Encourage them to learn these Scriptures – and you learn them along with them. That will encourage them that they are not alone in their sin journey – and journey in sanctification.
6. If your children have received Christ – talk to them about how as believers our desire should be to grow in godliness and have hearts that please The Lord. Not out of have-to but out of want-to.
7. Pray for your children. Pray, aloud, in front of them, that the Spirit would soften their hearts towards the Gospel. Pray they would come to serve God as The Lord of their life and that they would obey His Word.
8. Pray for behavior change – but more importantly heart change. And know and rest in the fact that you can't do anything about the heart change. That is all the fabulous work of the Perfect Holy Spirit.
And in that, as parents and as sinners, we can rest!