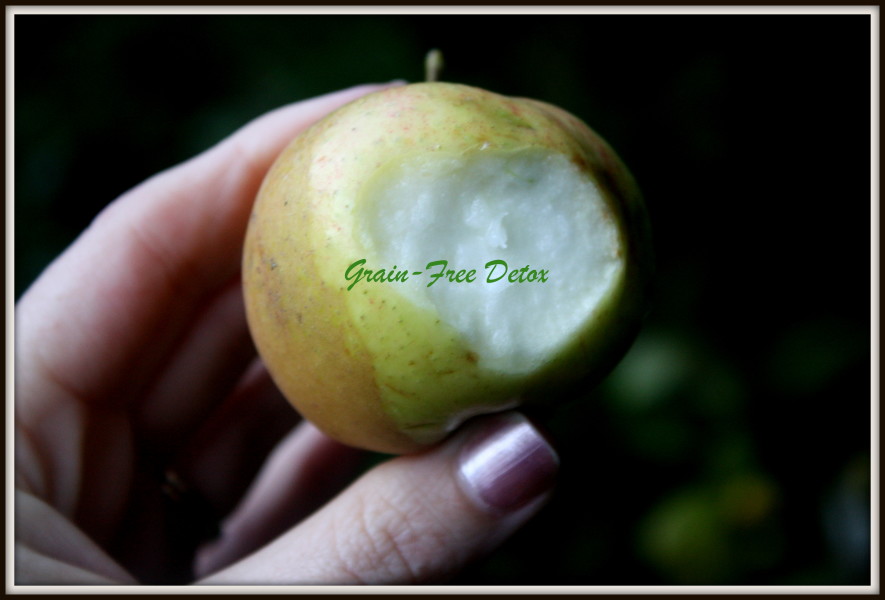 Wow…all I can say.
I had my concerns with how eating grain-free for even 4 days would go, and you know what…it was doable.  What it takes is planning and preparation (grocery shopping, recipes, etc), and a willing family and self-discipline.
1.  I lost 6.4 lbs in those 4 days.  I know that is not real weight, but it is better than nothing.  I'm now the lowest I've been since either of my two sons were born.
2.  I did not feel bloated once during those 4 days.  I had unsweet tea once, the rest of the time it was water, oj or homemade juice, or whole milk.  That was a different thing too for me.  Lately I had been drinking more carbonated beverages – which also do some bloating to me.
3.  A sweet friend who is losing baby weight with me asked me what I was going to do once I finished each of these detoxes each month.  Here is how I'm going to change life from this one.  These are significant changes and will be in how we mostly cook.  If we are eating with other people in their home of course we will eat with them, but we can change how we cook!
CHANGES:
1.  Limit carbonated beverages – diet or regular.
2.  Drink more homemade juices.  I typically make a simple carrot and apple juice for us in the morning which is delicious and inexpensive and quick.
3.  Take away white flour in our home (except in baking).  Here's what I mean: eat more brown rice, sweet potatoes, whole grain bread, whole wheat pastas when we do eat grains, but try not to eat them much.  But in baking, even though I sometimes substitute whole wheat flour, I purely like baking with regular flour if that's what the recipe calls for.  I have Baking with Whole Grains by King Arthur – but I just like normal recipes when I do bake them.  I'll just give them away and limit them.  Today – coming off detox: I had 2 bites of a white blueberry bakery-style muffin and 1 pita (in chip form) at lunch because of this restaurant's spectacular spinach dip.  I felt bloated all day.  Ended with 2 bites of strawberry pancakes and a diet coke. Ugh.  So, that's how I know there is a difference.
4.  For sandwiches, whole grain tortillas will do the trick.  Less carbs, I think.  And I can eat a half of a sandwich when I want to – like a good BLT – you need good sourdough for that.
5.  I think the toughest area for me in this will be: breakfast.  Meals that are easy and quick are foods made with grain.  But, I'll have to be prepared with hard-boiled eggs, cheese, milk, yogurt with granola, etc.
But, the end result: I feel better with white flour and I lost weight.  Those are great things!