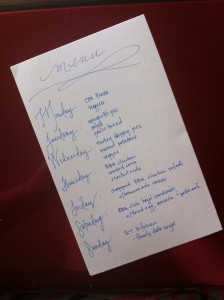 Usually I just type my menu into my iphone notes and go from there.  But, since I need every practice and lettering and calligraphy – I usually attempt to jot down my menu on a notepad.  I'm in the process of making a set of menu note pads and grocery list pages for the Etsy shop – so be on the lookout!
This week is going to have BBQ chicken written all over it.  I opened a bottle of sauce the other night for some pulled beef and now need to use it up – so we are bringing on summer with three bbq meals.  I know they will be delicious and I feel like we should eat them outside – but we have no deck furniture – or a deck for that matter – we have a slab of concrete.  Today we sold our home in Little Rock (or should because today was the day) and I loved our deck there – complete with charcoal grill.  We had one in the townhome where we spent our first married year – and it made it possible for us to enjoy each other's company longer in the courtship process.
What are you cooking this week?  The only reason there is no sweet stuff this week is because I'm doing 7 days with no sweets – baked goods.  That's been good because last week I ate way too many.  Also starting the gym today – so that will be good in helping me get off the lest 23 baby pounds – from two babies!
Monday: CPK frozen bbq chicken pizza – veggies
Tuesday: Spaghetti Pie – garlic bread – veggies
Wednesday: Turkey Sloppy Joes from Joy the Baker (I'm using store bought wheat rolls) – salad
Thursday: BBQ chicken – roasted corn – roasted reds
Friday: BBQ chicken chopped salads with homemade ranch dressing
Saturday: Brinner: bbq chicken bagel sandwiches with pesto aoli (idea from macheesmo)
Sunday: Heading to the city for Sunday Suppers with the parents.