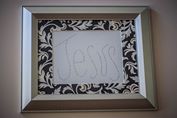 Throughout any given day, we as believers need to rehearse the Gospel to ourselves.  The Gospel isn't a crutch.  Its our life line.  Its the only truth that we have in a world that is constantly feeding us lies: You aren't good enough. Your kids aren't good enough.  You will never be able to compare with her.  Your house isn't clean enough.  You will never be ENOUGH.
The good news of the Gospel is that Jesus is ENOUGH.  He is everything we need to be enough in this life – and in the life to come.  We need to tell ourselves that all the time.  One of the ways that we can do that is by remembering who Jesus said He was.
The I AM statements are so pivotal because these statements separate believing Christians from the rest of the world.  We know that Jesus is God (based on God saying that He is I AM in Exodus 3) and by believing that Jesus said he was the resurrection and the life.  There are seven statements in all.
If you need help remembering these, or just want to give the gift of Scripture to a friend – then look no further.
The newest print on Etsy is the Jesus print outlined in the 7 I AM statement. (The above picture is the print stylized for gift giving.  I did this artwork for a friend for a Father's Day gift.)