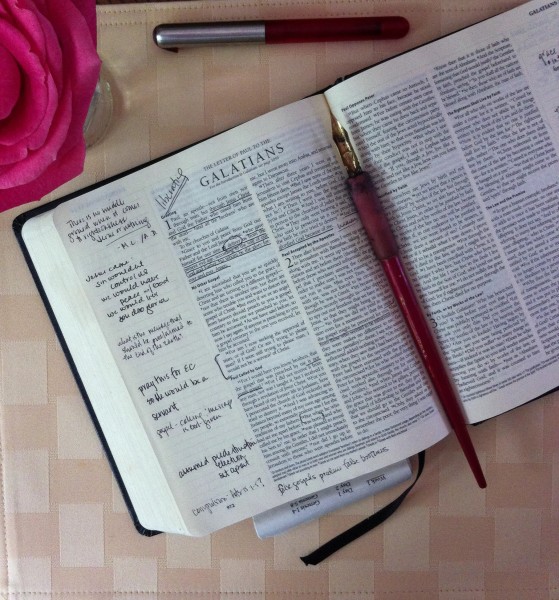 Most of us, if we are Christians, know that we are to read the Bible – the Word of God.  But, so many of us feel intimidated to open the book up so often times it sits on a shelf – even decorated pretty with flowers or other books – and collects dust.  Or maybe we just let others study the Bible for us and we are tempted to stay only with a book study with questions already done for us.
There is so much you can get out of studies already written, but I challenge you to dig deeper and study the Bible for yourself.  The good thing of being a Christian (among others) is the the Spirit lives inside of us and gives us His guidance when coming to the Bible to read it and gain wisdom, joy, and abundant life.
This blog post isn't exhaustive, but I hope it is a start to your journey in studying the Bible or yourself.  And believe me, when you do this – it will help with your parenting and your marriage relationship and your relationship with friends and neighbors.  The Word of God is impactful for every area of life.
Start:
1.  I would start with a Bible (I use the ESV Journaling Bible – there are wide margins for you to take notes and there aren't any notes from other authors – only the Word of God).
2.  Other things that would prove helpful to you are pens, pencils, and a notebook.
3.  If you are curious to what "experts" say – go to them later.  At least first sit down with just a Bible and the Holy Spirit and bathe in the Word for yourself.  It is living and active and you can understand it!
4.  First things first, take time to read through the Word.  Just read it.  Most of the smaller books of the Bible can be read in one sitting.  Do that.  While you are studying a given book of the Bible, I would encourage you to read it often.  Get an app on your phone and read it while waiting in line or sitting in the carpool line for your children.  You would be amazed at how much you remember when you read it often.
5.  Then I would challenge you to write it out.  Thats what the journal is first for.  Write it – even though  you have read it writing it will bring new findings to your mind.  Make note of those!
6.  Then ask yourself these three questions: (and there are other methods, but these are mine) – which I think are maximized for what you need for growth in The Lord and in the Gospel.  What does God say about himself in these verses?  What therefore do you learn about yourself in these verses?  How do these verses point you to the Gospel.
7.  For further study: look at commentaries, read or listen to sermons on that particular book of the Bible, ask questions, look at the rest of Scripture to see what the Word has to say about that passage.  But, first – let the Word of God speak for itself!  The Holy Spirit will be your Guide
You may be in a book of the Bible for a long period of time – but in time you will learn much about God, yourself, and the Gospel.  Let it soak in.  He is worth your time!