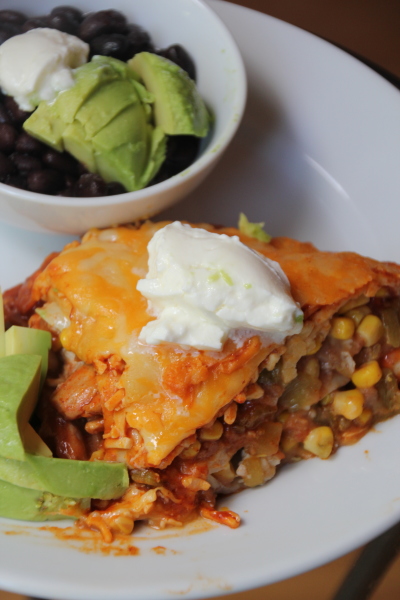 Mexican Food.  Easily my favorite comfort food.  Give me a big bowl of fresh guacamole and some tortilla chips and I'm a happy camper.  You can't go wrong with anything Mexican.  I do like making it at home, but don't usually – I guess I would rather go out and get it.
We had a date the other night – and I love cooking for our babysitters.  I decided to make homemade enchiladas and hoped the recipe turned out well since I didn't even try it before we left the house. Half the pan was gone by the time we arrived home – great amount for a meal's worth of leftovers for us the next day.
Rotisserie chickens are good and all from grocery stores, but I also like making my own roasted chicken.  Especially for recipes like that – because I usually can't find a tex-mex flavor rotisserie chicken in the deli.  This one was so easy and I did it the night before while the mister and I were watching one of the our favorite summer shows.
You can serve this with red or green enchilada sauce and whatever side dish you want – we chose black beans (which I doctored up with lime juice and some avocado)

Roasted Chicken Enchilada Casserole
Author:
The Charming South Kitchen
Prep time:
Cook time:
Total time:
Mexican comfort food at its best!
Ingredients
1 whole chicken
taco seasoning
6 whole wheat tortillas (medium size)
1½ cans red enchilada sauce)
1 can refried beans
1 onion
½ cup canned corn, drained
½ cup canned black beans, drained and rinsed
1 small can chopped green chilis, drained
3 cups mexican blend shredded cheese
Instructions
Preheat oven to 450.
Rinse and pat dry a whole chicken. Remove inner parts of chicken if any. Put in a pan and drizzle olive oil on top. Sprinkle (ok, a lot) of taco seasoning on top.
Cook for about an hour or until done. (depends on the size of your chicken)
Let rest and cool then shred the chicken.
In a pan on stove, heat more oil.
Cook onion for about 3 minutes, then add corn, chilis, and beans to heat through - about 3 more minutes.
In a 2 quart casserole, start layering with enchilada sauce, then tortillas (I tore mine to fit the pan I used),
Then refried beans, chicken, onion mixture, cheese.
Repeat layer one more time for a total of two layers.
Top with tortillas, sauce, and cheese.
Bake for about 35 minutes on 350 until all the cheese is melted.
Enjoy!