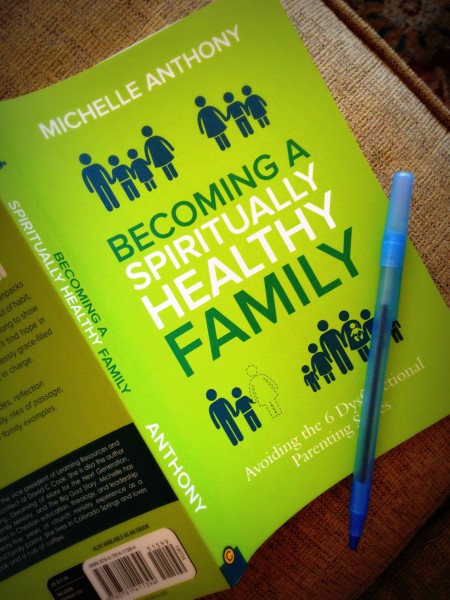 (Thanks to Litfuse Publicity Group for allowing me to be a part of the blog tour for this new parenting book and giving me a copy in exchange.  All blog content in my own opinion.)
Can I just tell you that parenting is the hardest job…EVER.  I keep telling people that now that I have two toddlers of my own (whom I love very much and would do anything for) – I wouldn't be a nanny for a million dollars for the rest of my life.  Every day I am challenged in my sanity, patience, grace, and knowledge and experience of the gospel in loving on these two littles.
Michelle Anthony, who has many years of parenting and ministry in her pocket, has written a helpful and engaging book for parents.  If you live in this world, you must think that everyone is dysfunctional – and basically, we all are.  Sin is a problem with all of us.  And now that I am a parent, I definitely see my sin patterns and struggles and strongholds coming out in my parenting.
Do I desire to be in control?  Do I want to be liked?  Do I want everything my way?
Dr. Anthony takes these and many more thoughts and scenarios and helps us as parents think through them.  Not only does she help us think through them, she also helps us identify answers to strengthen our parenting.
And the best news of all: we are not the Director. I'm so glad Michelle started out with this truth because it is one of the most discouraging and encouraging truths to hold on to as a parent.  It is discouraging because as person who likes to be in control, I can't do much about it.  But it is infinitely encouraging because the Director I know (God, the Father) is a perfect Director who has a marvelous plan and He never needs a "take 2".
The best I can see using Michelle's book Becoming a Spiritually Healthy Family is getting together and reading it with your spouse and reading it, talk about it, answer the questions at the end of each chapter – and then discuss it with a small group.  This even might be a great evangelistic tool to use in engaging especially single moms who are struggling to do this parenting thing solo.  This book is written for the average parent – you don't have to be seminary trained to understand her terminology.
Either way, read this, identify yourself in this book, and find hope in the Gospel.  I'm thankful Michelle wrote this and I look forward to re-reading this at each stage of parenthood that I am in.