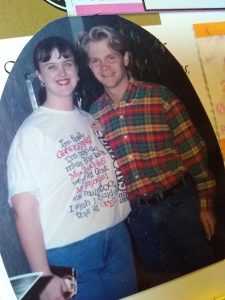 When I started listening to CCM music in the mid-nineties, it was 4Him, Jars of Clay, Point of Grace, and Steven Curtis Chapman.  I worked at a local Christian bookstore, got to attend many Christian concerts that swept through our town.
I was in our church youth group's choir and we went on choir tour every summer.  It got me into ministry and shaped my heart for ministry, and we got to wear white hats as we "saddled up our horses" for the Great Adventure tour starring SCC music.
So, to say I was excited when Steven Curtis released his biography I was ready to get my hands on it.  Thankfully I borrowed it, devoured it in a few days and cried my way through it.
I loved how he shared about the good and the bad in his life and marriage and ministry – not just the glamorous life of an artist, but more in-depth.  I wanted to underline most of the book because it is so grounded in the character of God and the truth of the Word.
When we walk through hard times, we can either fall away, fall into a depression, or we can pour out and cry out to the God who made us.  That is what SCC does in this book.
And here is my one warning, you don't have to read this book.  A few months ago I tried to pick up Mary Beth's book.  I couldn't read it.  It was bringing up my fear and anxiety in my heart and my husband, out of care for my soul, asked me to return it to the library unread.  I might be able to read it in a few years, but it wasn't wise for my heart at this time.  And my best friend encouraged me, if needed, to put the book down and come back to it later.  I couldn't read this book aloud to my husband because I would weep through most of it.  He finally got to a point and said "no more SCC".  But, I relished it and finished it, more grounded in the goodness and holiness of God and his perfect and sometimes broken plan for our lives.
My favorite genre of book is memoir or biography.  I love how people can articulate their story.  So often, in our church culture, we get shamed or rejected when sharing the brokenness of our stories.  God accepts our brokenness.  He welcomes us.