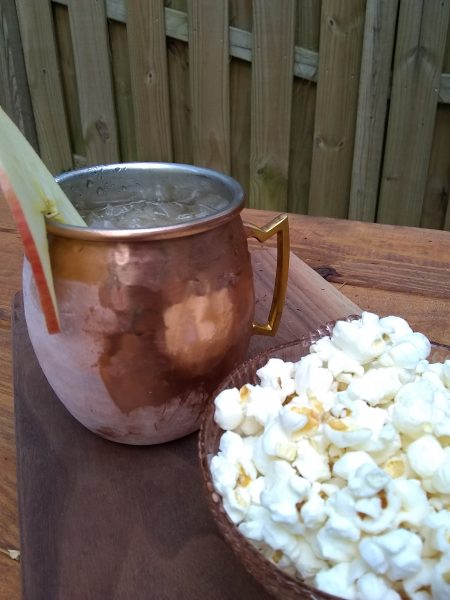 One of the things I love most about my relationship with my husband is couch time.  Yup – we just like to sit together and have a drink or a snack, watch some Netflix, read a book, watch a movie, eat tacos.  Whatever we can do from the couch.
When we first got married, and even during the short time we were dating, we would go out.  We wanted to be in public places where we could protect ourselves from being alone.  We had a spots at Washington Duke Country Club, Starbucks, or friends' homes.  We enjoyed traveling to see family, or hitting the beach on our days off.
But, now, with two kids who have early bedtimes, babysitters hard to find and expensive, we would much rather just stay home.
And the other thing we love is Popcorn. Yup – you heard me.  Popcorn.  We usually make it ourselves with cracked pepper and jerk seasoning.  Or some m&ms and/or sharp cheddar.  It makes for a light dinner or a late night snack.
And when its cozy outside, put a log on the fire, get some apple cider moscow mules, and the original Skinny Pop  popcorn (thanks to my friend Becky for introducing me to it).  Its easy and fresh and just open the bag – its great when there isn't any energy left after a hard parenting day – or week – or month.  It makes for a glorious and cheap evening.  We don't even need any babysitters.
How do you enjoy date nights with your spouse – that don't cost a lot of money?  We are always looking for date nights.