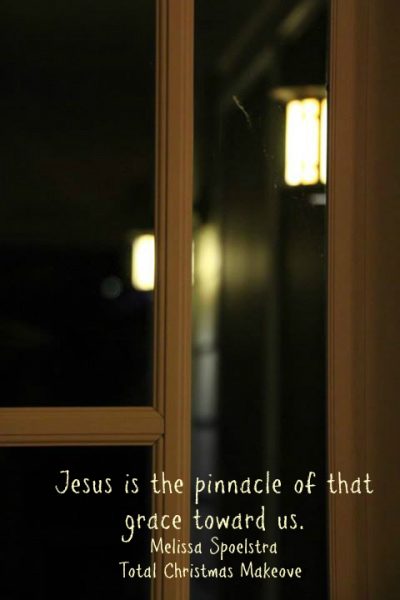 I love makeover shows.  What Not To Wear, Fixer Upper, Biggest Loser, Flipping Virgins, etc.
HGTV and TLC are some good shows.
I love how you take the norm and make it into the fabulous new norm.
And what about Christmas?  I love having Christmas in my own home with my own little family: my mister and two boys.  I love the quietness of the day.  I love the phone not ringing and you can sit around all day in your pjs.  It is always hectic up until the day: church activities, retail hours, shopping, work.  But, that day is the quietest of the whole year and I love it that way.
Melissa Spoestra in Total Christmas Makeover, gives her readers some ways to make over your Christmas this year.  Christmas is more than buying gifts and giving gifts, singing in cantatas, and eating too much, and doing all the school crafts!
Christmas is more about thinking of the One who gave up everything for us – all for his glory.  These short devotionals in Melissa's book have Scripture, gospel, prayers, applicable writing geared where you are, and activities to help you work out the truths that you've been reading about.  And they are short to read – you can think about it all day as you go about your day. Because we all know that the Christmas season is probably the busiest time of the year for most people.
Thanks to Litfuse for the book.  All opinions are my own.