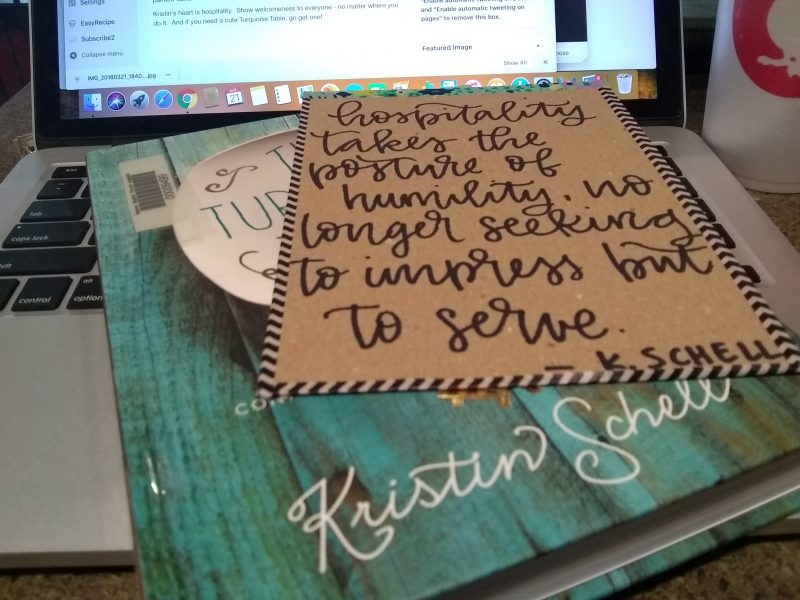 We have a picnic table.  When we moved into our home here in East Georgia, my in-laws purchased it for us, my husband stained it while our boys were running around him.  Its not painted turquoise.  And its in the backyard.
Now, before you hate, hear me out.
Hospitality is part of my heart.  Not just having people over to eat good food, but more to get to know their hearts, shower them with grace, and help them to feel welcome and loved.
I've always had a heart for hospitality because that is what I was shown from others while growing up and in college.  Whether we had a feast or just nuts and water sitting on a barstool in the kitchen…hospitality was a sense of belonging.
So, when I went through a period of my adult life when I felt like I didn't belong at all, I craved to be able to show hospitality to others, to give to others what I was missing.  And it has stuck with.  And I'm glad.
Kristin Schell, who wrote the Turquoise Table, is a blogger and a cook, and a wife and a mom, and a Texan.  This book reads like her blog posts, with cute pictures, good recipes, and winsome conversation style writing.  She tells the story of how the Turquoise Table phenomenon came to be and the relationships that have been formed over the table in her own yard.
If you are looking for a pretty book with a good message, and an easy read, then pick this up.  The hospitality conversation has so many facets to it. This is just one.  And don't feel bad if you don't have a Turquoise Table. Don't feel bad if you don't have a front yard (she tells of some stories in the book of how people have taken the idea and made it to fit their lifestyle).  Don't feel bad if you never sit out in your front yard.
One of my greatest desires is to sit down to meaningful conversation with good food.  And I can do this on our back deck, at a coffee shop, or at our newly chalk-painted table.
Kristin's heart is hospitality.  Show welcomeness to everyone – no matter where you do it.  And if you need a cute Turquoise Table, go get one!