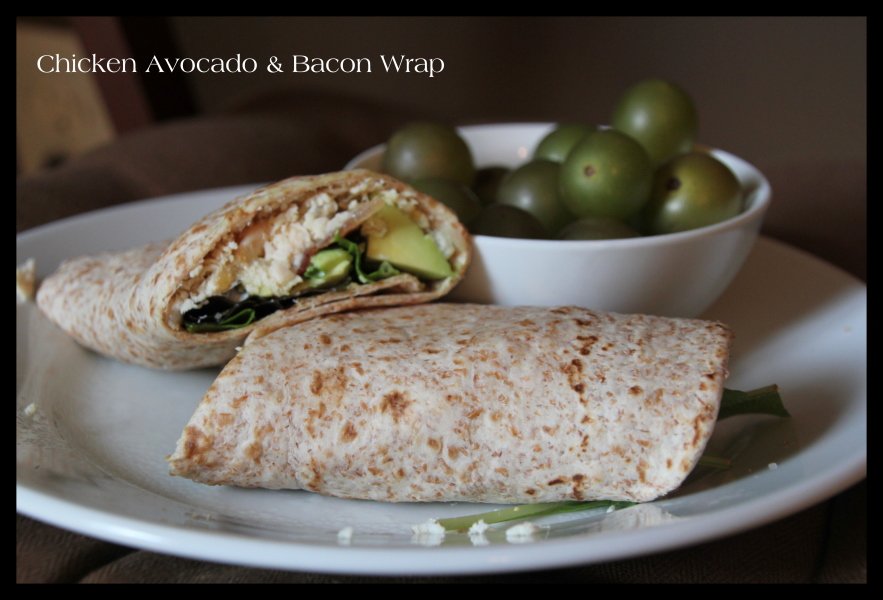 When I was growing up, August and September meant two things: going back to school and scuppernong grapes.
My grandparents, Granny and Papa, who lived across the pasture from us, had grape vines.  I loved going over there and picking the grapes once Papa told us they were in.  When I was smaller, he would climb the ladder and I would hold the bowl or brown paper sack to put them in.  But, as I got older and taller, I would take the sack up the ladder with me and drop them in.  I loved them so much I would break out around my mouth – somehow allergic to them, but only in large doses.
Those days are long gone, but I still love scuppernongs.  I remember buying them in the store for the first time.  I couldn't imagine paying 5$ for grapes that I used to get for free.  But, the smell brought back so many memories, that the 5$ didn't matter anymore.
I just got some at the Dekalb Farmers Market (along with the greens used on this wrap) and these grapes still make me break out if I have too many, and my older son doesn't care much for them – but I still love them, and fondly remember my Papa.
To begin a new series here on the blog: I want to create some easy lunches that you can have too.  Currently in our home, my lunch is usually leftovers of what my boys don't eat, or a taco from Taco Bell, or CFA salad with nuggets.  Sometimes it may be leftovers.  I don't usually prepare gourmet foods just for myself.  I'd rather go out all the time – but the budget doesn't allow for that.
This wrap was healthy, under 3 minutes to put together, and delicious.

Chicken, Bacon & Avocado Wrap
Author:
The Charming South Kitchen
Prep time:
Cook time:
Total time:
Bacon Chicken and Avocado for an easy lunch win
Ingredients
1 whole wheat tortilla
½ cup shredded chicken
2 T shredded colby jack cheese
1 strip cooked bacon
mayonnaise and honey mustard
greens
avocado
Instructions
Put tortilla down on microwave safe plate
Fill with chicken, cheese, bacon - heat for 45 seconds
Then top with greens, avocado, and condiments.
Wrap and eat!