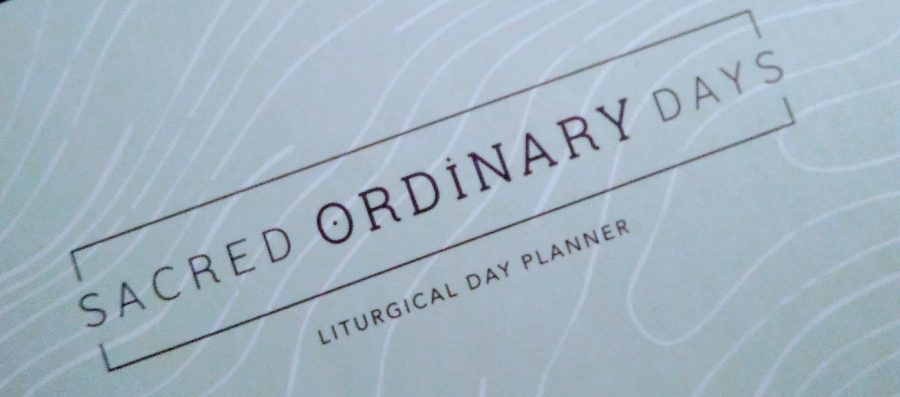 My story with church began before I was born.  Yup, I'm one of those.  Lifers.
I went to the same church until high school.  Then I went to another church for those years.
Then in college I went to one church all 4 years and stayed to work on staff even after I graduated before I went to seminary.
Once I got to seminary though things kinda were more irregular.  I went to a few churches in seminary, then went to one church after seminary.  Then in Louisville I went to a few, then came to work on one in Raleigh.  Then I got married.  And we've been to 4 different churches since being married.
One thing that being a part of so many churches has taught me is that the church is so much bigger than just the congregation I'm a part of.  Yes, I totally think the local church is important.
But, I also think the Church as a whole is important.
And that's what drew me to Sacred Ordinary Days.  Their planners are based on the liturgical calendar.  It is basically the calendar that the church goes by: like Lent, Advent, Good Friday, Pentecost, etc.
Each day there is a reading of Scripture (and isn't it neat to know that so many other Christians might be reading that same Scripture on the same day)!  Then you have space to put just a few things – which might help you narrow down your to-do list.  I mean, I know mine can get really long!  And then it has space for you to do what you need to do.  Letter the verse (which mine usually is), write out a prayer, jot down gratitude.
And some technical things: I love the mint green color, (and the one I have is on sale now at a great price). I love the size of it because there is plenty of room to write, and I am very thankful that Sacred Ordinary Days sent me one so I could share it with yall.
How am I going to use my planner in 2018?  I'm going to use it with my Power Sheets and my own Bullet Journal.  I love the readings so I'll be concentrating on those.
And they also have a book journal for all your readers out there!