This October marks the 500th anniversary of what marks the beginning of the Reformation: the day when Martin Luther nailed his 95 Theses to the door at Wittenberg.
New Growth Press and Bob Kellemen have offered a book that highlights some areas that can help all of us in our daily lives and for those of us in the business of Christian counseling, this book will help as well.
But, I would say, after knowing the personal help this book has given me, its encouragement, and its strength, that we all need to be in the business of counseling others with the Word of God – therefore, rightly, making all of us Christian counselors.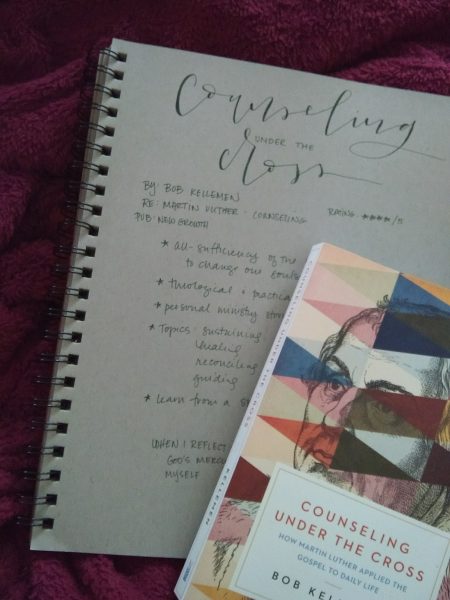 If we use the Word in our counseling, in our friendships, in our marriages, in our parenting, then we will have stronger and truer relationships because the Word of God is sufficient.  One of the marks of the Reformation was the 5 Solas – and one of them is Scripture Alone.  (I won't go so far as to say that we don't need any other kind of psychological help, but I do think the Word needs to be the base for all of our counseling.)
At first glance, I thought this book was out of my league.  But, then, as I sat with the table of contents, saw the method with which Bob tackled this topic, it was really quite user friendly and applicable.  He shares personal stories and letters of Luther to illustrate how he counseled with the Word of God alone – in these four areas: reconciliation, guidance, healing, and sustaining.  He broke up each one into the theology of Luther and then how Martin Luther put those theological ideas into practice with those he was in relationship with.
If you are looking for a new counseling book, or these topics (the 4 listed above) sound interesting to you, or you want to know more about the man and preacher and reformer, Martin Luther, then I really think this book will be helpful to you.
Thank you to Litfuse and New Growth Press for this book. All thoughts are my own.