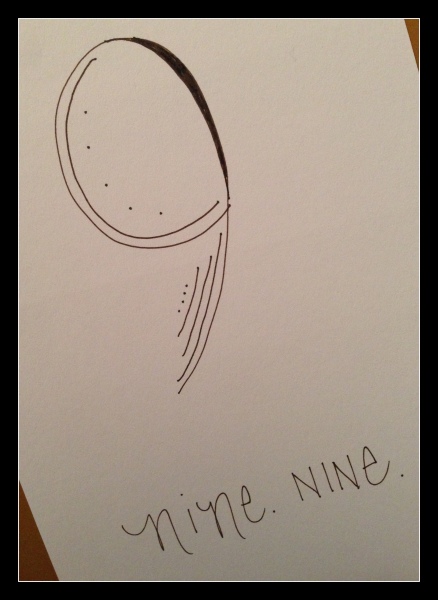 NINE.
For 9 years I've been blogging.  So, this year I think it is time to regroup and rethink and re:purpose.  While in seminary I took a class on mission and vision and purpose statements.  So, I thought I would share my "mission" statement in blog format today for yall.  Having a blogging mission statement helps you limit what you blog about – and limit is a good thing.  The blogosphere is full of all types of blogs – and you could spend your time trying to blog about everything.  That wouldn't work.
First – so much has changed in these 9 years.
I was still in my 20s when I started blogging.
I had just finished seminary and was working odd jobs just so I could hang out and love on college girls at UNC (mostly), some State and Duke students mixed in.   Some of these girls are some of my dearest friends now.  I started two blogs: a devotional one and a cooking one.
I then moved home to my parents house in Florida to pay off debt.
Then I moved to Louisville, KY to work for the then president of one of my favorite religious organizations.  I love everything they stand for and love their ministry.
Then I got my dream ministry job of writing curriculum for a church in Raleigh, so I moved back to my favorite state in the country.
Then I met my husband, got married, had a sweet little boy, moved to Little Rock, AR, had another sweet boy, and that brings us to today: the ATL metro area.
Here's what you will find at this blog site.
Food: I love to cook.  I love to savor food and wine and times with friends and family.  I am a foodie at heart and love to share that heart with others.
Photography: I love to capture sweet moments – both in the lives of our family and for other people.  A smile, the shade of light blue of my littles eyes or the perfect colors of a sunset.  Or what about maternity shoots or faces or portraits, or families.  Anything – capturing life's moments.
Family: I love family ministry. Helping families be the family that God created them to be.  That was my heart and passion at Providence when I was writing curriculum.  Being a family in today's world is so difficult – but with a lot of help and grace we can do it!
Faith: Everything I do, with God's help, is looked at through the lens of faith.  I'm thankful for God's grace in my life.  And I like to share that with others.  Whether that is through books I read, devotionals I write, links I circle back to.
Maybe you'll find some other topics every now and then, but mostly that's what this blog is about.  Enjoy reading.