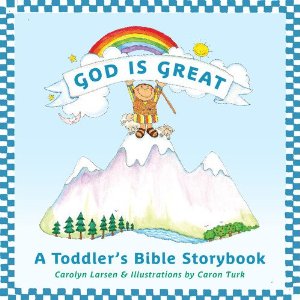 Crossway continues to nail theology and produce Gospel-centered resources for the church and families.  I LOVE this publishing company!
Now: on to the book at hand:
Most faithful readers of this blog know that I love the Jesus Storybook Bible by Sally Lloyd-Jones.  This Bible for children is a Jesus-pointed, engaging read for families and children to read together.  Every story points the reader to Jesus, the Hero of the Bible.
Carolyn Larsen has written a Bible very similar to Lloyd-Jones for toddlers.  What a great gift for new parents, or for a child's 2nd birthday.  What better way to start them out on a journey toward Jesus then to give them this Bible with beautiful illustrations and theology.
Things I love about Larsen's God is Great:
1.  Succinct.  There are only 17 Bible stories in this toddler Bible.  For toddlers, this is pretty good.  It is digestible.  It is repeatable.  It is simple.
2.  Color.  Toddlers love bright colors.  It helps the pages comes alive!  Caron Turk does a splendid job of using her God-given talents on this project.
3.  Theology.  Larsen bee-lines to GOD in each story.  This Bible is not about how to make your child a better child, neighbor, sister, or brother, son, or daughter.  This Bible takes them where they need to be headed: to GOD.  This Bible, in child-terms, teaches: the eternality of God, God's righteousness, His goodness, His Sovereignty, His guidance, His truth, His power, etc. Your children need to know these truths.  This is a resource that can help you teach it!
Do you want more resources as parents:
1.  Jesus Storybook Bible – linked above
2.  Catechisms for Young Children
3.  Leading Little Ones to God – Schoolland
And some I have found fabulous for parents:
1.  ApParent Privilege – Steve Wright/Chris Graves
2.  Big Truths for Young Hearts – Bruce Ware
3.  Instructing a Child's Heart – Tripp