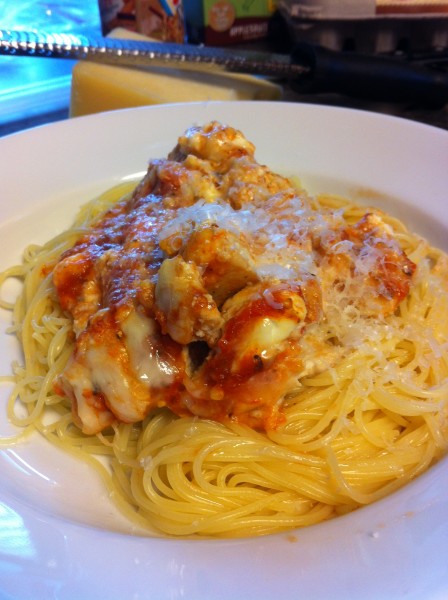 Garlic.  Tomato.  Cheese.  Crust.  Italian Sausage.  Onions.  Gooey-stringy.  Texture.  Taste.  Comfort.
All of the above give you a snapshot into why I love pizza.  What I don't love about pizza: the way it makes me feel.  I can't eat it as much anymore and I will save the rarities for grace pizza.
I still love the flavors of pizza so I want to incorporate those flavors into a more healthy dish for my family.  This was gobbled up by my men and me one evening for dinner.

Baked Pizza Chicken
Prep time:
Cook time:
Total time:
An easy baked chicken dish with all the flavors of pizza.
Ingredients
2 boneless skinless chicken breasts
10 slices pepperoni
½ cup full fat ricotta cheese
1 cup pizza sauce
1 cup Italian cheese
1 T Italian seasonings
8 oz angel hair pasta
Instructions
In an oven-safe dish, spray or grease the bottom.
Place your chicken in it.
Season both sides of your chicken with salt and pepper and italan seasonings.
Smear ricotta cheese over both pieces of chicken.
Layer the pepperoni over the top of the ricotta cheese.
Pour the pizza sauce over the top of the entire dish.
Top with the Italian cheese.
Bake at 350 for 35 minutes or until chicken is done (will depend on how thick your chicken breasts are).
In the meantime, cook angel hair (or any other pasta) according to package directions.
When chicken is done, slice on the diagonal and layer on top of the noodles.
Serve with salad or garlic bread.