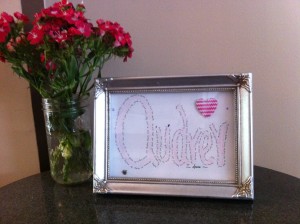 While I anxiously await the updates for this website and all the fun that it will bring – I want to introduce you to my creative side.  I know you've seen it in photography and cooking, but now you will see it in hand-lettering (which I've always loved), calligraphy (picking up from my 7th grade days), and other art.
This is one that I did for a sweet friend of mine.  I have several pieces like this around our home because another mutual friend did them.  I love, like her, to get the Word into peoples homes and hearts.  While I was penning this art I got to pray that a sweet little girl would grow up to love Jesus, make him known, and that she would realize that God made her beautiful – and wonderful.  Most of our girls growing up in our society today won't here that.  I think we do need to tell every child that, especially now when they hear so much contrary to that.
How do you get Scripture into your child's heart?  How do you pray over your children?
And I accept custom orders.  Email or contact on fb for order information.  My Etsy store is KDCcreatives.