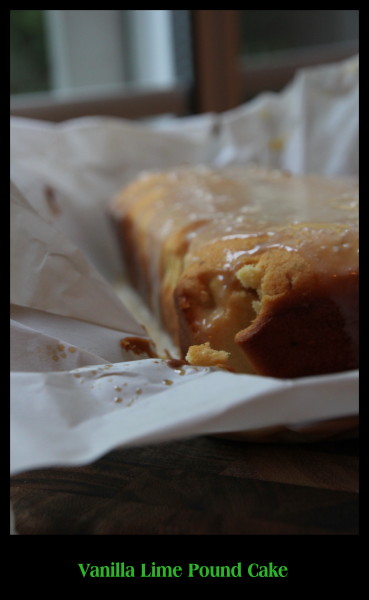 For this week's edition of Sundays in the South, I am featuring I recipe I finished up this morning.
I am definitely from the South.  And if there is any dessert that is commonplace in the South, especially the Deep South, it is pound cake.  Unfortunately, pound cake might rank right up there in my just-never-asked-for-desserts.  Unless you are this one particular pound cake found at a tiny bakery in a tiny town off I-40 in North Carolina.
Ketchie Creek Bakery serves an amazing Five Flavor Pound Cake with a rich and smooth buttercream which I would take over most any dessert in the world.  You get a huge piece and need to split it with about 4 friends, but man, it just melts in your mouth.
But, this pound cake features two of those flavors…lime and vanilla.  I made it today for our family reunion and my Dad's comment "Its dense and moist."  Exactly what a pound cake should be.
I tweaked How Sweet Eats recipe of this – I thought it was too lime-y, so the recipe you see below makes that adjustment.  Also, I didn't have a vanilla bean, so I upped the amount of vanilla.  The end result was still tangy and smooth.
Vanilla Lime Pound Cake
Author:
The Charming South Kitchen
Prep time:
Cook time:
Total time:
Tart and warm...a Southern vanilla lime pound cake
Ingredients
1½ cup all-purpose flour
1 teaspoon baking powder
¼ teaspoon kosher salt
¾ cup white sugar
1½ sticks unsalted butter
3 eggs
3 T whole milk
1½ T REAL vanilla extract or paste (don't use imitation as this is a huge taste of your pound cake)
1 T lime zest
¼ cup lime juice
For the glaze:
1 tsp vanilla
1 T heavy whipping cream
¾ cup powdered sugar
juice of two limes
Instructions
Preheat oven to 350.
Put parchment paper in a loaf pan and spray with cooking spray.
Mix dry ingredients. Sugar in this recipe is a dry ingredient. Reminds me to always read directions before starting a new dish.
Mix wet ingredients and combine with dry.
Bake for about 60 minutes or until done.
Let the cake cool.
Mix the glaze, adjusting the sugar and lime juice to your consistency liking. Drizzle on top of the cake.
Slixe, share, and enjoy.