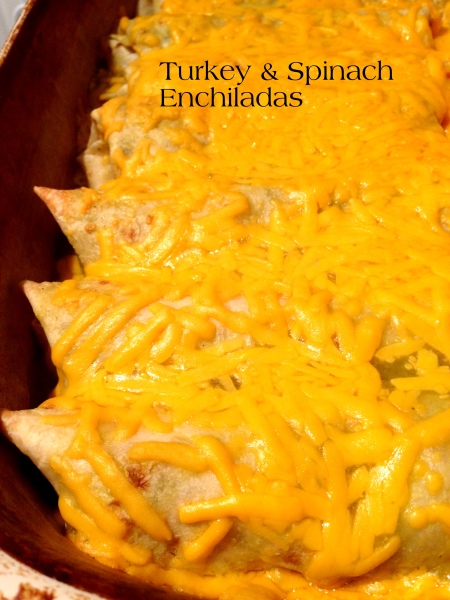 My days in seminary were days that were hard pressed for cash. I was very thankful for work, scholarships, and help from the parents, but still, I didn't eat out that often, especially the first couple semesters.  But, when I did, I would venture around the corner to my favorite Mexican place, Las Margaritas. It was a small chain, but I liked this location the best.  And then I tried their spinach and mushroom quesadillas.  I fell in love.  Gooey, cheesy, healthy (?), and warm, especially good for cold, NC winters.
And this is how life is funny: one of the friends I went to this restaurant with back then, is now my neighbor.  She got me started on making my own enchiladas with this recipe.  And tonight, she is getting these for dinner as she babysits my boys so my mister and I can go to a concert.  Life is grand.
And that taste, is what I've recreated in this enchilada recipe.  I've fallen in love with enchiladas.  I love making them.  By far, my favorite homemade mexican food to make.  So, I always try to come up with different ones.  So, today, I used what was in my fridge.
Fresh spinach.  Lean Turkey.  Cheese.

Creamy Turkey and Spinach Enchiladas
Prep time:
Cook time:
Total time:
Creamy and warm enchiladas packed with vegetables.
Ingredients
1 onion, chopped
2 garlic cloves, minced
1 pkg ground turkey
evoo
1 6 oz bag fresh baby spinach leaves
1 can cream of chicken and mushroom soup
½ cup grated cheddar cheese
½ tsp cumin
½ tsp black pepper
¼ tsp kosher salt
8 soft tacos (or 10 depending on the size of your pan, and how much filling you put in each one)
1 can mild green enchilada sauce
1½ cup grated cheddar cheese
Instructions
Saute onion in evoo. Add ground turkey and cook until almost done.
Add garlic and cook until turkey is no longer pink.
Drain.
Cook spinach in same pan.
Add back in the turkey mixture.
Cook until all spinach is wilted and incorporated into turkey mixture.
Add soup, cheese, and spices.
Fill each tortilla and roll.
Put seam side down in a 9x13 pan.
Pour enchilada sauce over the enchiladas.
Top with cheese.
Bake uncovered for 25 minutes at 375.
Enjoy with sour cream, cilantro, and black beans on the side.