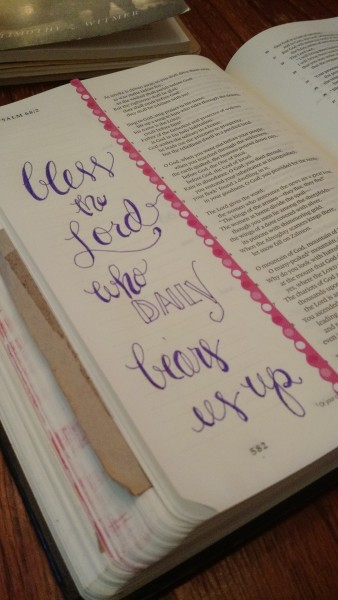 Toddlers: they are the funnest and hardest part of my day.  This afternoon when I was eating Chickfila with my boys on the back porch – watching my older one get so excited about dipping his fries in the sauce or hearing my younger say "coke coke" begging for a sip of my diet coke – I looked at both of them with a huge smile – telling them I love you.  And then there are moments when I just want to put them to bed and have a moment of silence to myself.  And I've learned that is ok.  Grace comes with bedtime.
But, grace also is imparted to our children by them learning about spiritual disciplines.  One of the disciplines that we are teaching our boys is prayer.  They clap and say yay when we are done praying at dinner.
A great new resource to help your child learn how to pray is the Say and Pray Bible.  It is by Tommy Nelson resources and is a board book with great illustrations for your toddler. One of the aspects of this Bible that I love is that it helps them identify objects in the story (learning new vocabulary, helping them learn how to spell).  This is purely educational.  But, when tied in with a Bible story and prayer guide – this is a great resource for your toddler – probably my new favorite.
One of the ways I intend to use this as my boys get older is create worksheets that they can do as we read along with the story.  I want to pull of the words and give them space to learn how to write, draw pictures of the words that they can match, There is a variety of creative games or word searches that you can do to help your children learn how to read, spell, match, and learn the Bible.
If you would like to win this resource for your children – just leave a note here or on Social media and tell me one verse that you are teaching your kids to pray.
That's all.