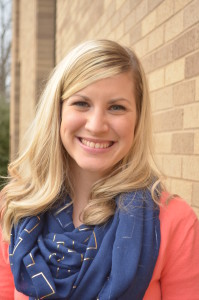 One of the women who have shaped my theological thinking and has been a friend to me the last 8 years is Courtney Reissig.  I first met Courtney in Louisville when we both worked for deans of the SBTS and had some ministry with CBMW.  She then got married and I moved away to Raleigh.
Then I got married, and she moved to Little Rock.  Then we moved to Little Rock.  Even though we were at separate churches, I was glad to meet up with her every now and then to talk life, marriage, parenting, and ministry.
If I still lived in Little Rock, I would probably pick up some coffee and head on over to their house (about a mile from where we used to live), let our boys play, and share this conversation with her in person.  She's due any day now with another little boy.  Since I'm not in Little Rock, I used modern technology and asked her these questions about her new book, The Accidental Feminist, and about coffee.  You'll get a chance to hear how writing this book shaped her heart and family and her relationship with her heavenly Father…and about her coffee direction.
Thanks Courtney.
1.  Writing a book is a time-heavy endeavor.  How did you manage 2 toddlers, a husband, and serving in your church – while writing a book?
That's a question I get often. In all honesty it was by the complete grace of God. The prevailing theme in my life as I wrote the book was unexpected weakness. 2 Corinthians 12:9 was very dear to my heart throughout the entire process. It says:
"But he said to me, "My grace is sufficient for you, for my power is made perfect in weakness."
Therefore I will boast all the more gladly of my weaknesses, so that the power of Christ may rest upon me." I got pregnant halfway through writing the book, sadly it was followed by a pretty complicated miscarriage that seemed to drag on. In God's kindness, I got pregnant again right as the editing process was starting and was fairly sick through most of the editing. There were many days where I thought I would not be able to get it done, but God was faithful to give me words when I needed to write them, and provide the necessary energy to write and think. Practically speaking, this book has been in my head for a long time, so in a lot of ways it flowed out of me primarily because I had done so much thinking and writing about it before I ever had a book contract. Also, my husband was a tremendous blessing in providing me space and time to write. When I wasn't pregnant, I would get up early in the morning to write and he would get our boys started with the day. I also did a couple of overnight writing retreats and that really helped with getting large chunks of writing done. For the most part, though, the book was written during nap time and in the early morning hours. I just process better earlier in the day, rather than later.
2.  You've obviously thought about this topic of feminism much.  What is one new thing you learned in your research for this particular book?
I read a book on the history of first wave feminism towards the end of the process and I was struck by how white the early feminist movement was. One of the dividing lines of the early feminist movement was whether or not they would include African-American women's issues on their platform. Many of them, largely influenced by the spirit of the age, did not see a need to include African-American women in their fight. I had always known that some early feminists, like Margaret Sanger, wanted to eliminate those she saw as unfit for society (like minorities, disabled people, and the poor), but I didn't know that within the larger movement there was such a lack of minority representation. That was really interesting to me–and of course, really troubling. It showed me that it's easy to only think in terms of our own culture and context when we apply truths to our lives without looking at people who are different than us and really trying to understand where they are coming from and how our ideas might be interpreted by them or applied differently to their lives.
3.   The local church is important in this shaping us to look more like Christ.  What is one way that women can be purposeful in their relationships with other women in the church to help each other grow in our womanhood?
I think the primary way woman can be purposeful in their relationships with other women is to take initiative themselves. It's easy to assume that no one has time for you, or that others aren't interested in your life, when in reality everyone is waiting for someone to approach them first. I know I do that more often than I should. If we want to see women flourish in their understanding of God and his word and we want to see relationships develop among women, then we have to be willing to make the first move. In my own life, I know my reticence to taking initiative is often owing to fear (which is really pride). I'm afraid of rejection or afraid that the person will think I'm too needy. But I am needy. We all are. We need the body of Christ to encourage each other, fight sin together, and remain steadfast in the faith. One of the encouraging things that I see in the local church today is the desire women have to study God's word. That is one practical way relationships can be forged, through intentional study of the Bible together. There are many more, of course, but that is the best place to start.
4.  How did writing this book shape your relationship with your husband and your children?  
That's a good question. First, with my husband, it really showed me how much he truly supports me. Writing a book is not an isolated effort. Of course, there is a lot of time spent alone as you crank out chapters (which is a challenge for an extrovert like me!), but it's also about the community that shapes your thoughts. My husband has probably talked more about feminism than he ever thought he would! He is my greatest support, but also my toughest critic. In the early stages of writing, I struggled with his criticism because I took it so personally when he said something didn't make sense or didn't sound true. But as we've walked through this process together, I've learned that because he is my greatest supporter, I can trust his criticism. His critiques are faithful and in my best interest. He's not out for my evil, but for my good. And he's a really good editor. If only it didn't take me so long to appreciate it! With my children, it's a little different. They are two (and as of right now, my third son is still in utero), so they can't read yet. But as I researched for the book and learned more about feminism's influence on men and how our culture perceives them, I became more convinced of the need for understanding the far reaching impact feminism has had on all of us. I want to raise my sons to be men who love God, love and respect women, and love God's word. That is counter-cultural in a world that expects very little from our men, and it frankly scares me to raise them in a world where they are expected to be either ignorant boys who never grow up or aggressive sexual predators who use women for their own pleasure.
5.  What kind of coffee do you drink?  Or tea?  Maybe more so when you aren't pregnant.
I do drink coffee. I didn't drink it during the first 16-17 weeks because I couldn't stomach anything, especially coffee. But I love coffee in the morning, so I eventually gave in around 20 weeks and started drinking it again. With the twins I didn't, but since I actually have other kids now I feel like it's a necessity to function in the morning 🙂 I love Caribou coffee, but we don't have that here, so I drink the Kroger Columbia blend (to save money). I like it with some milk in it. Since I have gestational diabetes, for a treat, I'll get a decaf skinny vanilla latte at Starbucks if I'm out for coffee. Normally I get the normal kind. 🙂