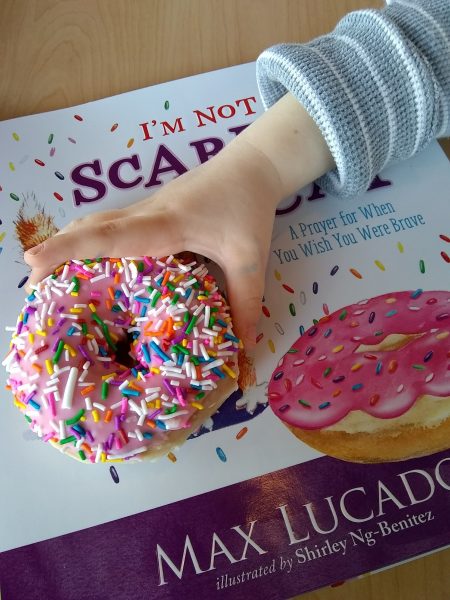 Seriously, a book with a donut on the cover?  Yes, give me that book!
My kids loved this right away for the very same reason.  And because we ate donuts while reading it for the first time.
I'm definitely a Max Lucado fan, and have been ever since high school when I started reading his books.  He encouraged me in my faith so much during those first years of really growing in the Word.
And, raising boys, I think my boys need this book.
Boys need to be brave to grow into men.
Boys need to be brave to fight injustice in the world with the justice of God
Boys need to be brave to stick up for their siblings on the playground, or that boy who is getting picked on, or that girl who is getting teased.
Boys need to be brave when its not cool to do the right thing.
Boys need to be brave to work hard when it is more popular to be lazy.
Of when they are afraid of the dark and want their door cracked at night.
And this cat in the book reminds us, and our children of great truths:
God is good – always. (Our older son's life verse says this very thing)
God is near – so good to know that.  When we pray we acknowledge that.
God is here – part of his perfect character.
And that He loves you.
If you'd like to win a copy of this book for your favorite little person – makes a great Christmas gift – then just leave a comment telling me your favorite kind of donut.
Thanks to Tommy Nelson Mommies for this book and the giveaway book!