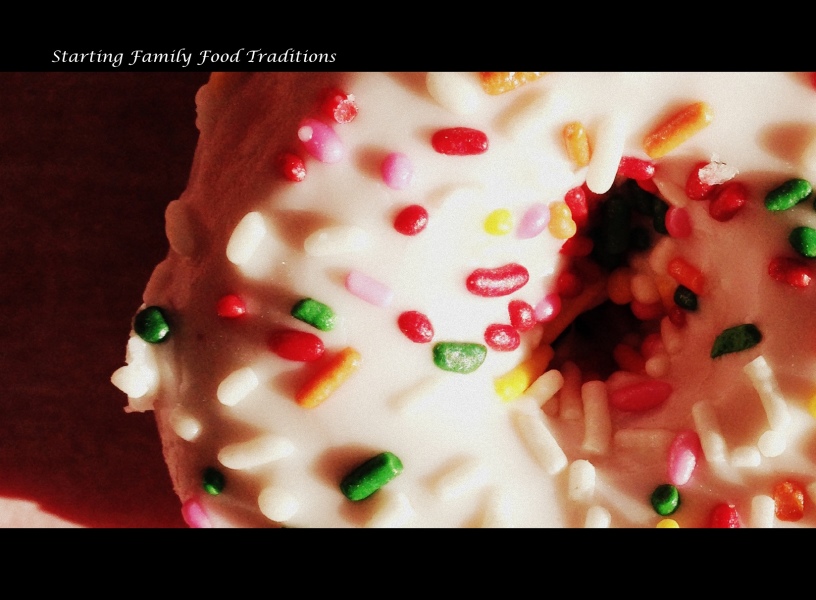 Family and food.  Those two words often go together for most people.  Whether you wake up and cook pancakes on Saturday mornings, have a weekly pizza night, or always make certain Christmas cookies around the holidays – there are some things food always brings to the table.  Maybe you always go to a certain restaurant for special meals, or maybe you have your grandmother's recipe for gingerbread and her worn cloth apron that she would wear as she labored hard over her yeast rolls.  Smell in the memories.
Growing up, we didn't have a lot of these.  We loved food – don't get me wrong.  There are a few things: smoked mullet, Granny's chicken and rice, and Dad's creole black eyed peas every New Years.  Those are good traditions and I even introduced my mister to Papa's smoked mullet a few years back.  However, I want more.
As a wife and a mother of two littles, I want to create traditions, with the OK of my mister, that will do two things:
1.  Provide a way to create memories for our family.
2.  Help us to see the goodness of God to our family.
Here are three that we have started, and I will explain these two above points as we go along.
Weekly Pizza Night : making it, Little Caesars, store bought – just a night for pizza (and leftovers of course). Who doesn't like cold pizza for breakfast.  Hold the olives, please!
Weekly trips to Trader Joe's and Ray's Donuts.  I am so grateful that my husband makes time to keep the boys while I go grocery shopping.  I seldom go with them anymore because even if I've just fed them, they will eat the produce in the cart.  Not going to happen.  But, I like taking them to Trader Joe's on Monday mornings.  We get TJ cinnamon cookies, try new products, and make all the clerks smile.  Building relationships.  Its important.  And happy boys.  Also, we've started going to Ray's Donuts in Marietta (amazing donut holes) one day each week.  Nothing fancy, but good donuts.  We spent 1.80 this morning, hung out with some friends who joined us, and ate donuts.  It was so much fun wiping down my boys' fingers with a wet wipe because they had glaze in between their little fingers and on the corners of the their lips.
Homemade Pad Thai for New Years.  I am definitely southern and like greens and black eyed peas – but I wanted to do something different.  So, last year the Mister and I said we would do this.  I want to teach my boys to love it – and to teach them to love the different cultures of the world.
Our family is just starting out, but so far I'm building relationships that can hopefully spread into opportunities to share the gospel and I can teach our boys to be thankful for pizza, donuts, and pad thai.  God is so good to us.  Whether its an additional 5$ for pizza on a Sunday night – where we can rest and enjoy one another and not dirty up a kitchen – or 1.80 for a mid-morning, mid-week fun time with mommy with sticky fingers.  These boys will have memories.
What food memories are you creating for your family?  We will install more just waiting to see what yumminess!